It's been a busy week for many of our incredible engineers across Australia and New Zealand, representing Beca as thought leaders and innovators at the Fibre Value Chain Conference (FVCCON) 2022.
The multi-event program included keynote presentations, panel discussions and forums covering a wide range of topics to inspire, engage and challenge the industry as we transition to sustainable and innovative solutions for the future. Our experts were recognised for their contribution to the industry, with two presentations, panel participation, as well as fantastic award wins.
Daniel Tanner wins First Prize in the New Speaker competition
Beca's Daniel Tanner – Process Engineer in the Industrial team, was awarded first prize at the finals of the 2022 New Speaker Competition at the Australasian Pulp and Paper Technical Association (Appita) conference on Thursday 1 December.

Daniel presented on the cost savings achieved for Oji Fibre Solutions Kinleith Mill through the installation of a new heat exchanger, to recover 4500 L/min excess white water that was previously sent to the sewer. Since commissioning, the plant has seen an immediate reduction in steam consumption and hot water usage. Between steam savings and fibre recovery, the project is estimated to save the plant $2M/yr in operational costs.

We're proud of Daniel's achievements and his commitment to furthering his professional development, using the prize money to contribute to further training.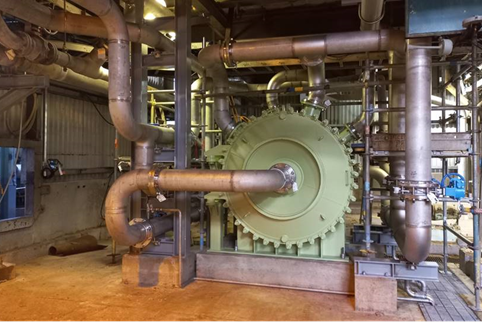 Pictured: Kinleith Mill - Heat Exchanger Project
Pictured: Daniel Tanner (left) awarded First Prize for New Speaker Competition
Tony Johnson was awarded the prestigious Appita L R Benjamin Medal
Tony Johnson – Technical Director for Wood & Fibre, was awarded the prestigious Appita L R Benjamin Medal for his substantial contribution to the advancement of the science and technology of the New Zealand pulp and paper industry.

Tony is a highly regarded and well-respected technical expert in the pulp and paper industry in New Zealand, Australia and abroad, and has devoted his entire career to the technical advancement of our client's sites and the industry as a whole.

He has provided technical expertise on hundreds of projects that have covered the entire kraft pulp and paper process: wood prep, pulping, pulp screening, pulp washing, oxygen delignification, bleaching, effluent treatment, and air discharge.

Thank you Tony for bringing to life Beca's values and making everyday better for our people, clients and community.
Pictured: Tony Johnson awarded the Appita L R Benjamin Medal
Stewart Coleman presented a keynote speech and participated in a panel discussion
Stewart Coleman – Business Director for Industrial Digital, also presented a keynote speech titled 'Digital Twins – what is all the fuss about and why should you care' at the Appita Conference in Melbourne on 30 November.

FACILITYtwin, developed by Beca, allows businesses to accelerate holistic understanding, optimal decision-making, and effective action, by providing a virtual representation of real-world entities and processes, synchronised at a specified frequency and fidelity.

Digital twins use real-time and historical data to represent the past and present and simulate predicted futures.

Stewart also participated in a panel discussion 'What can go wrong, will go wrong. What disruption looks like and how to handle it'.

A great effort by Stew, showcasing his expert knowledge and sharing alternative solutions using technology, that can help our clients and the community achieve sustainable outcomes for the future.
Pictured: Stewart Coleman presenting on stage
Paul Robilliard – Business Manager at Oji Fibre Solutions Kinleith, presented and participated in a panel discussion on Innovation.
New Zealand's Paul Robilliard – Business Manager at Oji Fibre Solutions Kinleith, was another fantastic keynote speaker at the Appita Conference in Rotorua. He sat on the panel to discuss 'Innovation' and how the Industry is tackling today's waste challenges, which require innovative thinking and advanced technologies to find sustainable solutions.

The panel had senior management personnel from Oji Fibre Solutions, Pan Pac, and Winstone Pulp International who are just some of Beca's key clients.

Congratulations to our winners, Dan Tanner and Tony Johnson for their achievements and to Stewart Coleman and Paul Robilliard for raising our profile. It's great to see our people across Australia and New Zealand come together as a united team to put forward innovative solutions to decarbonise the industrial economy as we move towards a sustainable future.
Click on the following links where you can find further information about Beca's services in Wood and Fibre, Digital Transformation and Sustainability.


If you would like to learn more about what we are doing in this space, please connect with our team below: