Last month, Beca had the opportunity to unveil the Digital Twin Experience Centre to an audience of more than 15,000 attendees at Industrial Transformation Asia-Pacific (ITAP) 2022, representing a significant milestone for the Industrial Digital team. Through a successful partnership with Constellar, the official organiser of ITAP, the Digital Twin Experience Centre was one of the key highlights featured at the event.
Jimmy Walsh, Beca Group Director – Industrial, says, "It was a privilege to be able to showcase the transformative power of digital twin and what Beca is doing in this space. With digital twin technology, manufacturing companies can visualise their physical assets in extended reality, obtain contextualised insights, and use those insights to make smarter decisions for their business."

Featured as one of this year's key event highlights, Beca presented four bespoke manufacturing use cases at the experience centre, demonstrating to attendees how companies are transforming productivity, risk, cost, and flexibility outcomes, by contextualising asset maintenance and performance data with greater certainty and precision than ever before.

The experience centre also featured the Smart Industry Readiness Index (SIRI), an international Industry 4.0 benchmarking and transformation standard endorsed by the World Economic Forum to help manufacturers identify their current digital maturity, benchmark themselves against industry peers, and prioritise digital initiatives for their transformation plans.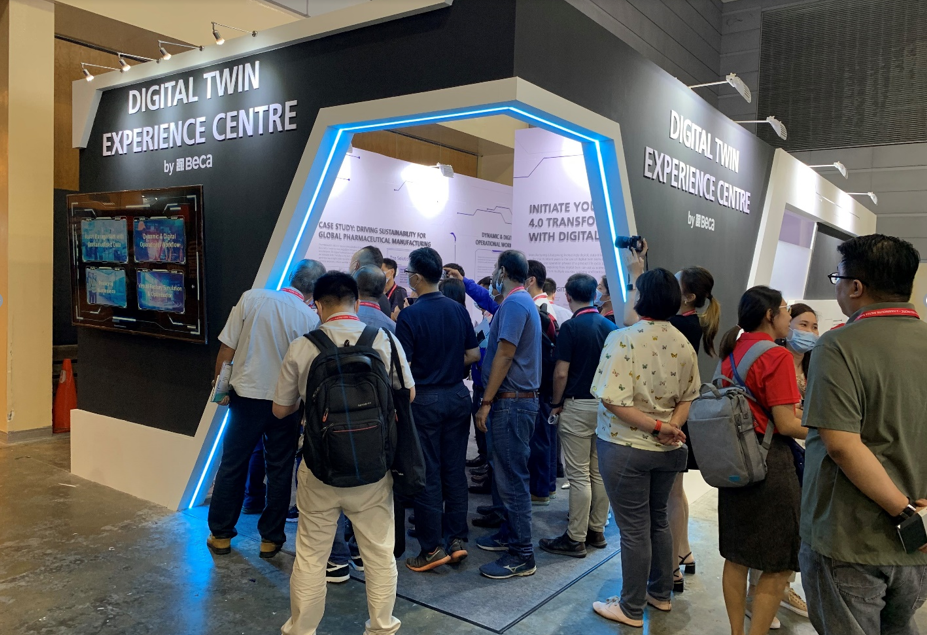 A crowd at the Digital Twin Experience Centre on Day 1
In addition to the Digital Twin Experience Centre, Jackie Tan, Beca Director – Industrial Digital, was also a moderator at two separate panel sessions discussing insights on Industry 4.0 implementation and strategies. The importance of data integration across different business functions to generate actionable insights and enhance speed of delivery to the market, while keeping cost competitiveness, was highlighted during the sessions.

"That's where digital twin comes in" says Jackie. "In our current world where global mega-trends such as climate change, shifts in supply chains, and labour shortages are calling for greater needs to optimise manufacturing processes, digital twin plays a critical role in helping companies reimagine approaches to accelerate productivity gain, sustain their competitive edge and attain their sustainability goals."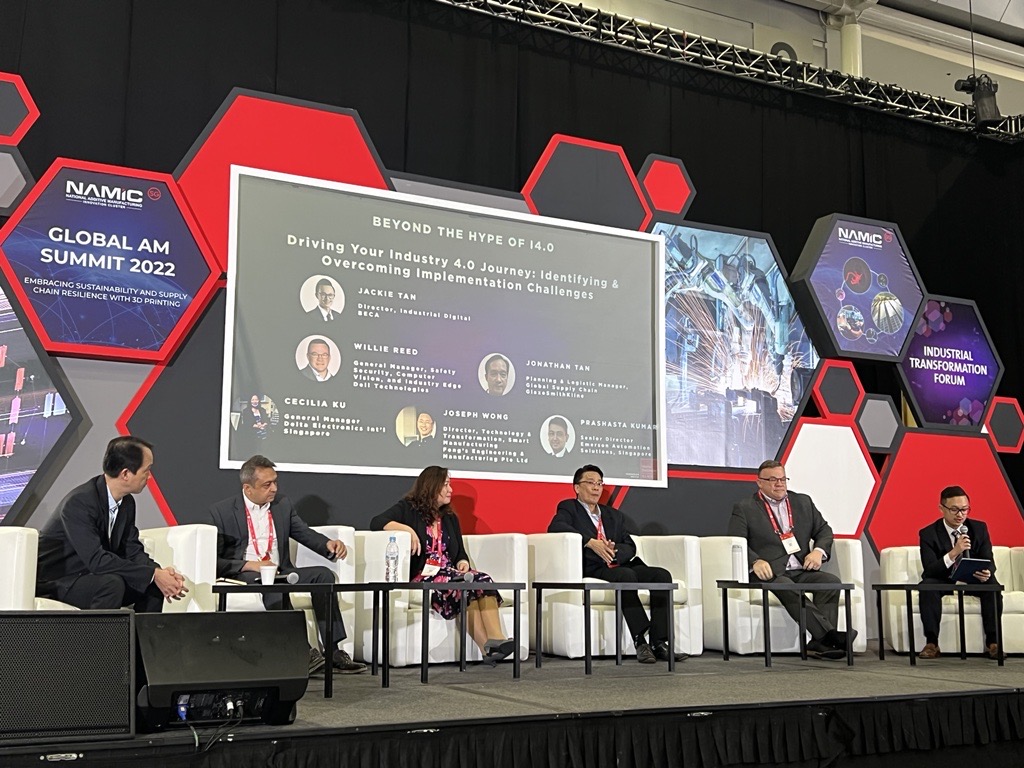 Panelists on the "Driving Your Industry 4.0 Journey: Identifying & Overcoming Implementation Challenges" panel session included, from left: Johnathan Tan from GSK, Prashasta Kumar from Emerson Automation Solutions, Cecilia Ku from Delta Electronics Int'l, Joseph Wong from Fong's Engineering & Manufacturing, Willie Reed from Dell Technologies, moderated by Jackie Tan, our Director for Industrial Digital (extreme right).
A key highlight for the Beca team in attendance, was the opportunity to host Singapore's Deputy Prime Minister Heng Swee Keat and two Minister of States, Alvin Tan and Low Yen Ling, at the Digital Twin Experience Centre, where Beca was encouraged by their interest and proud to be part of Singapore's journey towards a smarter, greener, and more connected advanced manufacturing hub.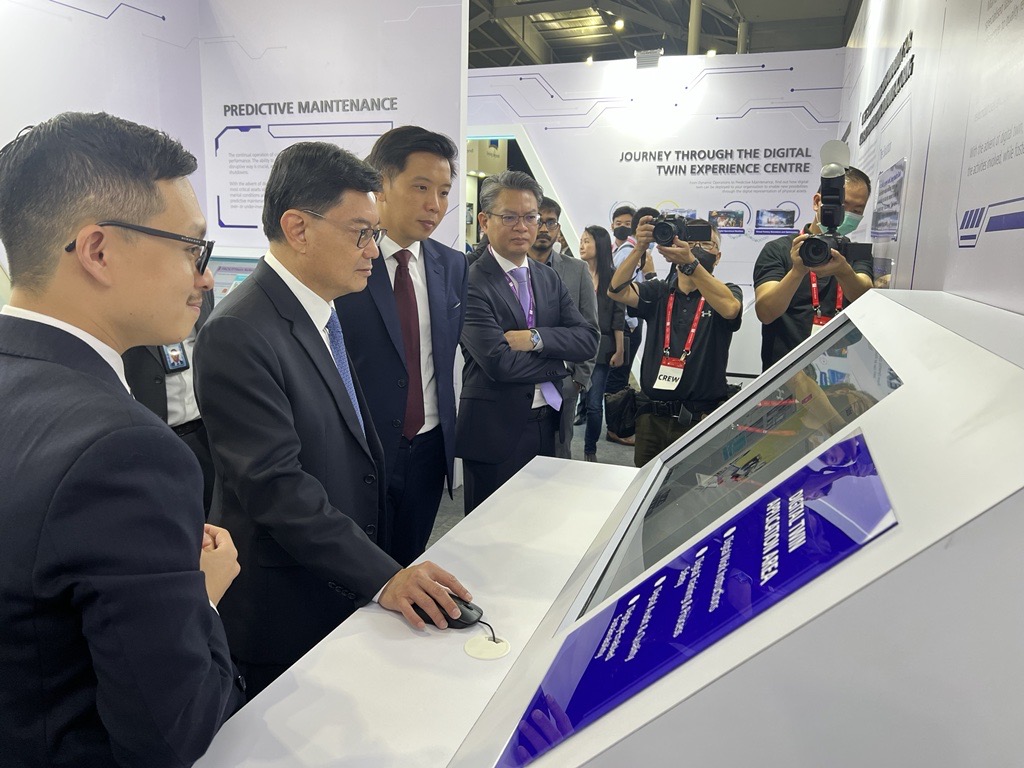 Singapore Deputy Prime Minister Heng Swee Keat (2nd from left) exploring the digital twin demo. He is hosted by Jackie (left), and accompanied by Minister of State Alvin Tan (3rd from left) and James Boey, Senior Vice President, Markets, B2B, Constellar, at the Digital Twin Experience Centre.
To learn more about Industry 4.0 transformation, SIRI, and digital twin, email Beca at marketing-sg@beca.com.