We recently advised on a detailed sustainability roadmap to help a global mining client meet their 2030 and 2050 net-zero targets.
Our client St Barbara, a global gold mining company, came to us with a goal to not only reduce carbon emissions with net present value (NPV) solutions, but also to create a positive environmental and community outcome. They had a clear vision but needed help identifying the individual actions required over the next 10 years to bring it to life.
Retrofitting sustainable solutions
This client has multiple sites around the world, some in remote locations and others nearing end-of-life. Mining facilities are complicated beasts that require intricate energy solutions; much more than a simple switch to renewable energy, as would be the case in some other industries.

It was clear there was no "one size fits all approach" for their global operations, given the differences between them. St Barbara was keen to explore more than just an energy transition in their plan.

This challenging project required a collaborative approach and a "serious resource and intellectual grunt".

Our team led a study of the client's global business operations, to advise on what needed to change and when to achieve their aspirational sustainability goals.
Innovating towards a greener future
The outcome was a detailed roadmap with more than 15 actionable insights and a roadmap towards net-zero by 2050. Our team provided a big picture solution promising future resilience, with consideration of the financial and community impacts.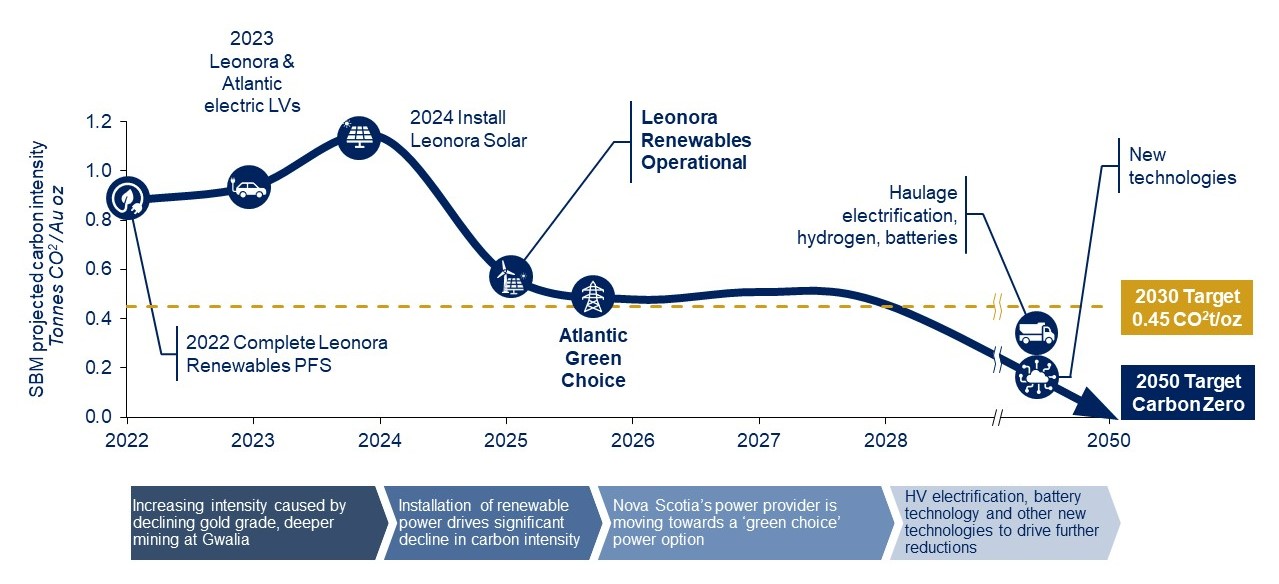 These included:
Switching to low emissions vehicles, including electric haul trucks and light vehicles
Where possible, connecting to the grid for access to renewable electricity
Hybrid renewable installations (including wind, solar and batteries)
Implementing an alternative cooling strategy
Innovative energy storage for periods of reduced renewables and excess renewable generation.
One site has shown huge potential for transitioning to renewable energy and has been singled out as the priority in the company's sustainability journey. The project has now entered the pre-feasibility study phase, led by our team, to understand the financial, environmental and social impacts.

Upgrading the site to operate on renewable energy is only the beginning for this complex brownfield site. Such a major transformation has required our experts to think outside the box to guide our client on how to maximise the use of renewable energy, minimise gas costs and even redirect additional energy towards underground ventilation and cooling. The final solution involves a ~65 MW renewable energy solar/wind and battery solution with some unique Beca add-on's to achieve an attractive NPV.
The road to neutrality
Overall, modelling and some innovative storage has shown that renewables can provide the most cost-effective way forward.

Not only does this have the potential to exceed our client's ambitious 2030 carbon-reduction goals but, if successful, the site will boast a 60% reduction in gas consumption and related emissions.

That's a win for our client, a win for us and most importantly, a win for our precious planet.

Learn more about our broader sustainability offering here.
Our client says
The Beca team, working in partnership with our operations teams, built a long list of possible projects, then narrowed this down to the opportunities that would meet our targets reliably and affordably. This work will be a key contributor to us meeting our carbon emission targets.
Craig Jetson
Managing Director and CEO, St Barbara
Our team says
Its been great working in such a constructive environment with the St Barbara team, and satisfying to deliver a project that is making a positive difference.
Graeme Harding
Senior Process Associate, Industrial