We now live in a world where organisations are operating factories round the clock, from anywhere in the globe, powered by huge amount of data and analytics. For organisations to continue operating efficiently today, there is a rising need for digital twin technology to design new products, connect critical assets, visualise current and new operating conditions, and virtually monitor and operate production processes.
These capabilities are important in order to derive new insights and drive decentralised decision-making. Especially today, when global mega-trends such as climate change, shifts in supply chains, and labour shortages, exacerbated by the global pandemic, have created pressing issues in both productivity and sustainability.

Organisations are now looking beyond remote access and visibility into factories, fully immersing themselves into data to optimise and automate their production processes. As a result, digital twin for manufacturing is expected to grow rapidly over the next few years, driven by the need for increased productivity and lower maintenance costs.
What is digital twin?
Digital twin was first coined in 2002 by Michael Grieves to describe a new way to coordinate product lifecycle management. As a result of limitations in integrating processes and data across engineering, manufacturing, and quality teams, the concept stumbled along for many years.

According to the Digital Twin Consortium, a digital twin is a virtual representation of real-world entities and processes, synchronised at a specified frequency and fidelity.
Digital twin systems transform businesses by accelerating holistic understanding, optimal decision-making, and effective action.
Digital twins use real-time and historical data to represent the past and present, and simulate predicted futures.
Digital twins are motivated by outcomes, tailored to use cases, powered by integration, built on data, guided by domain knowledge, and implemented in information technology and operation technology systems.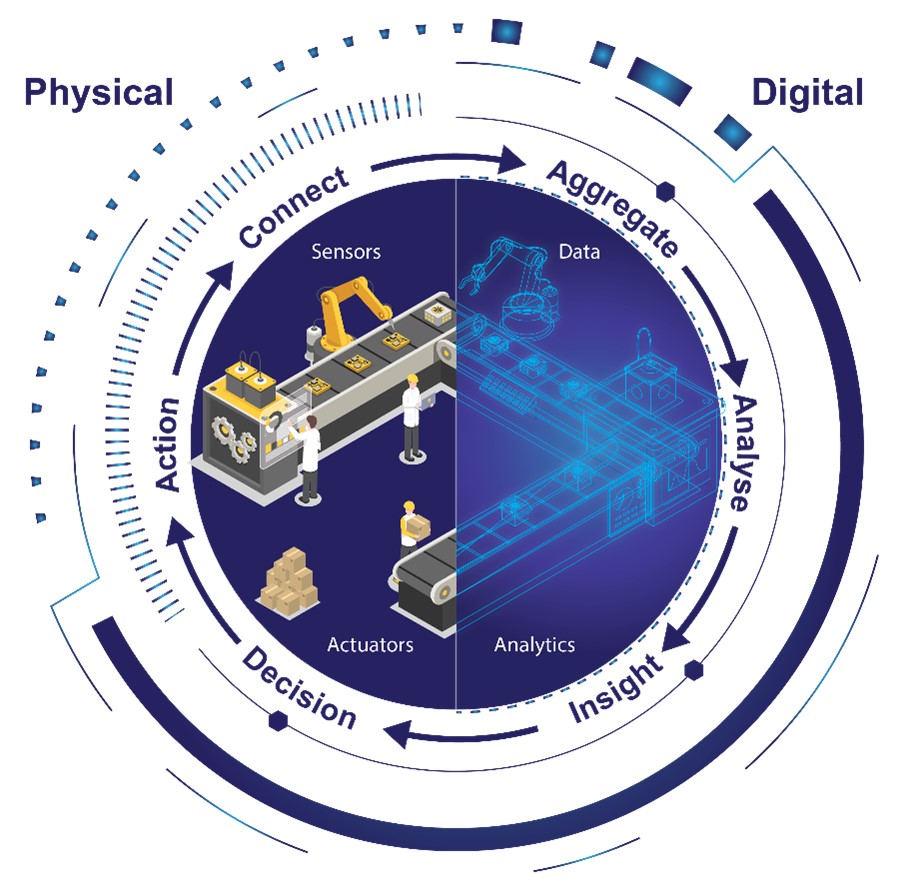 A booming market in digital twin

Listed as one of the top ten strategic technology trends to watch for in 2021, the market for digital twins is expected to grow at an astounding rate of 40.6% compounded annual growth rate (CAGR). From 2022 to 2029, Fortune Business Insights projected that the global digital twin market size is expected to grow from $6.75 billion in 2021 to $96.49 billion by 2029, InfinityQS has found that more than 52% of manufacturers are actively investing in digital transformation technologies, while Gartner survey reveals that 75% of companies with an Internet of Things (IoT) network has and will be implementing digital twin in production.
The values of digital twin
The exploration of digital twin use cases is still in its nascent stages, and there are new values being derived as organisations experiment and technologies improve. Organisations who have embraced digital twin technology are already seeing the benefits, some of which are outlined below. Simply, reimagine a factory through the power of digital twin where you could:
Improve business profitability and optimise capital spending: Save time and money throughout the capital design and build phase, through reduced rework and transition risk, creating accurate as-built models throughout, streamlining handover.
Improve productivity: Increasing asset reliability and availability with constant real-time monitoring and access to relevant, contextual data and information by the operation team.
Improve production efficiency and product quality: Using factory simulation to identify possible bottlenecks, quality issues in the operation, allowing manufacturers to optimise their system for production efficiency and scrap avoidance.
Enhance team collaboration and analytical decision making: Manage risk and improve business performance through increased access and visibility of integrated, contextual asset management information which supports better management and executive level decision making.
Drive sustainability efforts: Facilitate connection between the physical and the virtual asset to predict and verify asset performance related to energy, carbon and effective resource management.
cases on how organisations could reap the benefits of digital twin. Find out more.