Beca was proud to be the sponsor of the Awards Gala at the Futurespace conference in Wellington, from 20 to 21 September 2023 – and we're thrilled to say that Victoria Mills, Associate – Environmental Engineering, was named the 2023 Emerging Leader.
"I feel honoured to be recognised by ACE in receiving the Emerging Leader Award for 2023, alongside two other exceptional finalists. I'm looking forward to the doors this will open in helping me to further develop my leadership potential, and in particular spending a year on the ACE New Zealand Board. Thank you to all those at Beca that have guided me along my career journey over the past 10 years (you know who you are). I couldn't have got to where I have without the ongoing support, learning and opportunities I have been lucky enough to receive," says Victoria, in summary of Thursday's win.

Victoria Mills, 2023 Emerging Leader
Victoria has more than nine years' experience in three waters engineering, specialising in stormwater design. Based in Beca's Tauranga office, she is currently leading major deliverables in the stormwater design for Takitimu Northern Link – one of the most significant infrastructure projects in the Bay of Plenty. She also leads a team of 13 professionals of various career levels in the local water team.

Along with Victoria's award win, Beca was also recognised with the following awards:
Gold - St James Theatre and Ballet Building
Wellington's iconic 1912 St James Theatre and Ballet Building have been sympathetically strengthened and upgraded, bringing one of the region's most important arts venues back into use.

Deconstruction of the building uncovered numerous unwelcome discoveries from the 1990s seismic retrofit, necessitating significant redesign and resequencing of the construction works programme. Heritage theatre buildings are notorious for their poor climate control systems, and the St James Theatre was no different presenting complex challenges for Beca's HVAC team.

Beca is recognised for the architectural sympathy within which the structural strengthening was undertaken, the delivery of an enhanced level of user comfort which is world leading, and the responsive, collaborative leadership it provided, ultimately delivering the project on time for opening night.


L to R: Chris Martin, Manager - Central Building Services, Spencer Brown, Principle - Project Manager, Henry Tatham, Technical director - Structural Engineering
Silver - Auckland Harbour Bridge emergency repairs
The Auckland Harbour Bridge is one of New Zealand's most critical transport links. On 18 September 2020, a freak 127km/hr wind gust caused two trucks travelling over the Auckland Harbour Bridge to topple over, causing critical structural damage to the historical truss bridge. Waka Kotahi called upon its trusted advisors, Beca and the Auckland System Management alliance to get the bridge back into safe operation as soon as possible, anticipating a four-week programme and social disruption costs of $40 million.

Beca leveraged its 25-year knowledge of the bridge to help deliver the repairs quickly, reliably and accurately during limited night-time closures, ultimately delivering an elegant, structurally-sound solution in 18 days.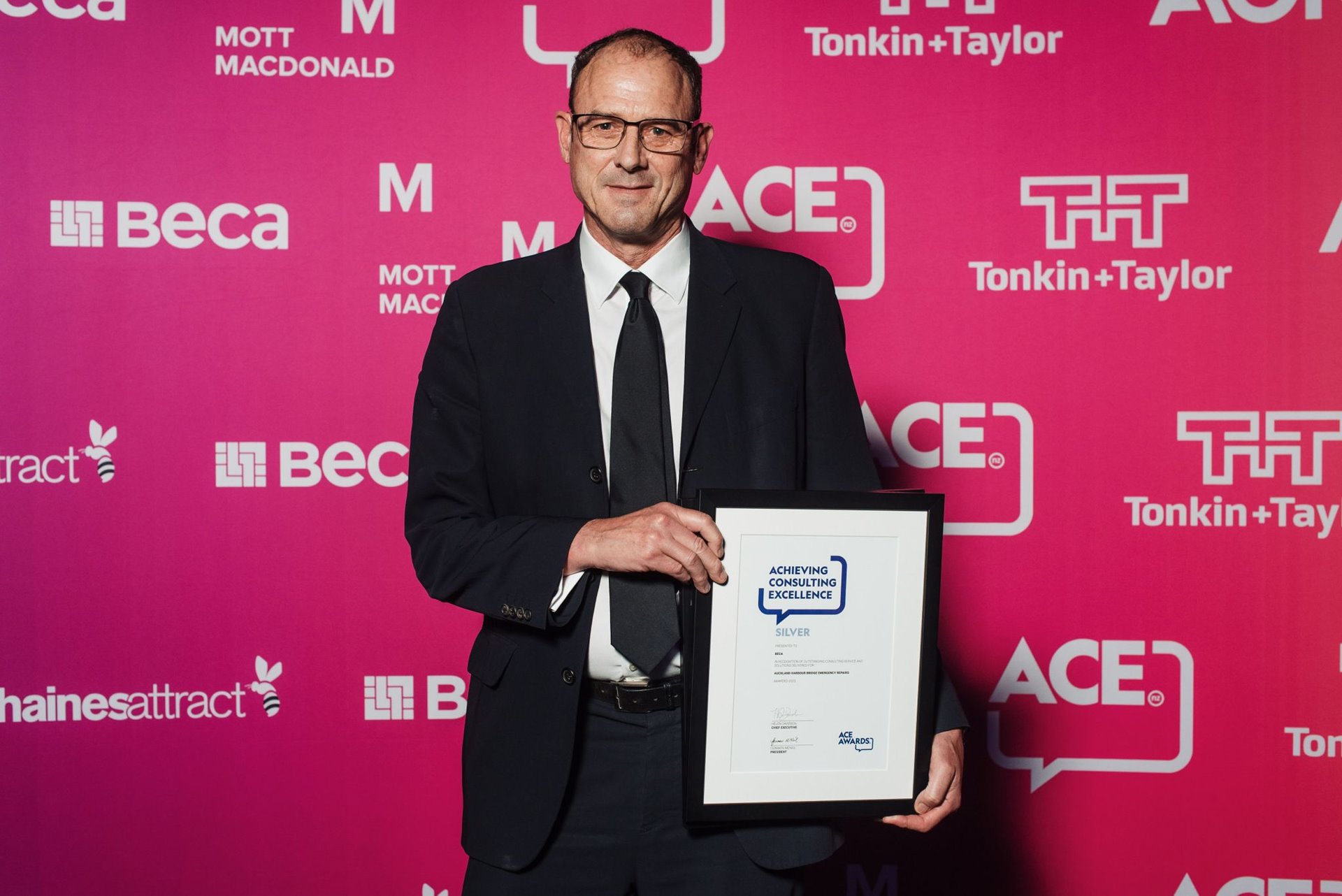 Will Pank, Technical Director - Structural Engineering
For more on the ACENZ awards, please visit their website.