Beca welcomes eight new technical specialists to its esteemed group of Technical Fellows at their 2023 Technical and Delivery Leaders Pre-Forum Dinner held on Wednesday, 11 October.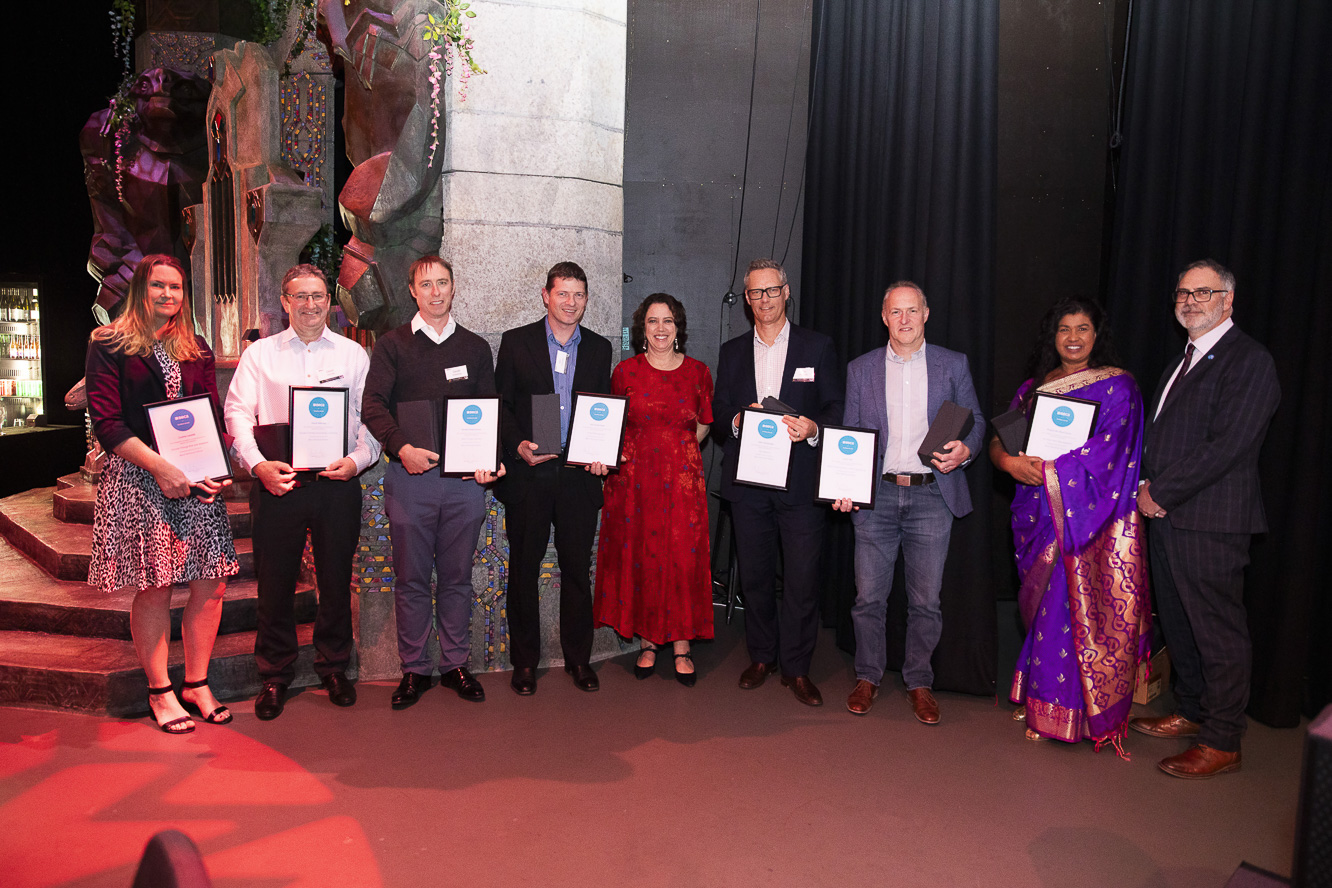 Image (L-R): Cushla Loomb, David Aldridge, Gareth Robertshaw, Iain Sutherland, Amelia Linzey, John Oscilowski, Justin Hill, Priyani de Silva-Currie, Craig Price.

Beca's Chief Technical Officer, Craig Price in confirming these appointments talked about the significance of the role of a Beca Technical Fellow and how these senior Beca leaders strengthen our organisational capability.

"We have a lot of very capable and highly performing people across the business, successfully delivering many challenging projects. The role of a Beca Technical Fellow is to reinforce technical and delivery leadership within our business. Our Technical Fellows strengthen Beca's capabilities through cutting-edge innovation.

"In appointing these leaders, we acknowledge and celebrate the importance that Beca places on technical and delivery excellence in our client service. This technical excellence is at the heart of what we do.

"It's a personal highlight for me to announce these appointments and to have the opportunity to showcase the achievements of these Beca leaders." says Craig Price.

Beca Technical Fellows provide leadership for Beca through participating in risk committees, undertaking verification, helping to develop our people and providing thought leadership.

Hear from our new Beca Technical Fellows on the biggest opportunities and key challenges facing their respective sectors and highlights from the career.

Congratulations to our 2023 Beca Technical Fellows
Cushla Loomb – Technical Fellow, Climate Change Risk and Adaptation
Recognised for her technical expertise in climate risk, climate change adaptation, and public policy, Cushla has broad expertise in environmental impact assessments and statutory planning, is an IAP2 accredited engagement specialist, and a Certified Environmental Practitioner. She is Beca's Business Director for Climate Resilience – Infrastructure and currently leads the Beca / NIWA / GNS team delivering the Wellington Regional Climate Impact project for the nine Councils in the Wellington region.
David Aldridge – Technical Fellow, Road Design and Road Safety
A national expert in transport related infrastructure design and safety, David is an active member on the Waka Kotahi Independent Professional Advisors Panel, including acting as an Expert Witness in the Environment Court. He is passionate about coaching and mentoring, and helping people grow their careers. David is also recognised as an expert in cycleway design – most notably as Team Leader of the Christchurch Cycleways Programme for the last eight years, which now sees him working nationally including Queenstown, Tauranga and Wellington.
Gareth Robertshaw – Technical Fellow, Port & Maritime Infrastructure
Delivery of maritime projects is a clear strength, and David is well regarded in the industry for his understanding of port and maritime infrastructure. He is a national expert, recognised for his work on Port of Melbourne (prior to Beca) and leadership of Swanson Dock rehabilitation. Gareth also is a Fellow of the Institution of Civil Engineers and has professional accreditations in Queensland and Victoria. He is a sought after trusted advisor, bringing international expertise from his work prior to Beca, having worked throughout SE Asia, Asia-Pacific and the UK. Gareth has published a number of conference and proceedings papers on subjects from coastal engineering to delivery of maritime works in remote locations and caisson design.
Iain Sutherland – Technical Fellow, Project Management
Iain is a national expert in Project and Contract Management, particularly in the Food & Beverage and Water/wastewater sectors. He has made a significant impact across Beca has been involved in projects across New Zealand, in Australia and Thailand and is a Chartered Professional Engineer and Project Management Institute (PMI) accredited professional. His significant contribution to Beca included leading the Crisis Response for COVID Claims. He has built strong and enduring relationships with many of large clients including Lion, Christchurch City Council and Watercare, and won the PMI of New Zealand Project Manager of the Year Award in 2017 for his role in the Emerson's Brewery Project.
John Oscilowski – Technical Fellow, Cost Advisory
John is well known as a national cost management leader, evidenced by being awarded a fellowship with the New Zealand Institute of Quantity Surveyors (NZIQS) in 2021. He has held roles in projects of national significance, including Auckland International Airport, the Alternate Waitemata Harbour Connections. He led the Cost Management Team for the New Zealand Deference Force (NZDF) DEI Estate Alliance which won the RICS Quantity Surveying Team of the Year 2022 Award.
Justin Hill – Technical Fellow, Major Project Delivery, HVAC Engineering
Justin is a national expert in HVAC systems, especially in more complex solutions, including ground source heating and cooling systems and biofuel heating systems. He also seeks out and leads the delivery of building services engineering for large scale projects, such as the Christchurch International Airport Integrated Terminal Development and the new Dunedin Hospital. He has a high industry profile as a Chapter Chair for the Chartered Institute of Building Services Engineers (CIBSE) and from authoring CIBSE publications. He is also a Fellow of CIBSE and has contributed to several significant Singapore projects, as a technical adviser and reviewer.
Priyani de Silva-Currie – Technical Fellow, Strategic Asset Management
Priyani is an internationally recognised leader in her field of Asset Management. She is delivering strategic advisory services to significant complex asset-owning organisations including NZDF, Te Whatu Ora and the Department of Internal Affairs (DIA) and has shaped our pursuit for the National Asset Management Strategy with a key national client (Te Whatu Ora). Currently the President of Āpōpō Infrastructure Asset Management Professionals Inc, Priyani demonstrates her standing in the professional community. As Beca's most senior asset management practitioner, she is part of our Asset Advisory leadership team, and chairs Beca's group wide asset management team forum. In 2023 she was an invited guest to present at conferences in South Africa, Italy and the UK. She sits on the national executive of the International Federation of Municipal Engineers, which is made up of 22 member countries.
Robert Brodnax – Technical Fellow, Policy and Strategy Advisory
Recognised as a strategic 'guru' and national leader particularly for his business case and strategic planning, as well as his skills in collaborative working, Robert's reputation means he is sought out by clients in local authority and public sector areas across a wide range of infrastructure. His appointment as Tauranga's Urban Form and Transport Initiative Project Director also reflects the reputation, he has outside Beca. He is skilled in bringing together multiple government agencies to tie together integrated investment commitment for future years. For the Waikato Futureproof partners, comprising central and local government agencies, he held the role of independent implementation advisor.