We're honoured to announce that three of our planners at Beca have been recognised with Te Kokiringa Taumata / New Zealand Planning Institute (NZPI) Distinguished Service Awards on World Town Planning Day, 8 November 2022.
Every year the NZPI Distinguished Service Awards recognise planners who have made an exceptional contribution and provided continued and outstanding service to communities and the planning profession through their work and leadership.

Bryce Julyan, Beca Practice Lead – Planning, Communications and Engagement, and a past Chair of NZPI, describes these awards as a wonderful recognition of "the contributions to the work the recipients have done to deliver equitable and robust planning outcomes for our clients and communities".

"We're extremely proud of our planning leaders and their achievements. Their passion and dedication to the field makes them instrumental to not only improving the world around us, but also to inspiring and developing our future leaders of the planning profession."
Graeme Roberts
Graeme Roberts, Technical Director – Planning, received the award for his leadership, professional advice and significant contributions to planning and community wellbeing over many years, across Aotearoa New Zealand and the wider Pacific.

While international projects have formed a large part of Graeme's career, particularly in strategic and coastal planning policy and strategy development, he's maintained a strong focus on Aotearoa, and is an ardent supporter of the NZPI. He is a regular participant on Membership Interview panels, reflecting his strong support of the profession and development of emerging planners, and is passionate also about the coaching of emerging planners.

Graeme has also made significant contribution to the community through his volunteer work, particularly in the area of community housing for those in need.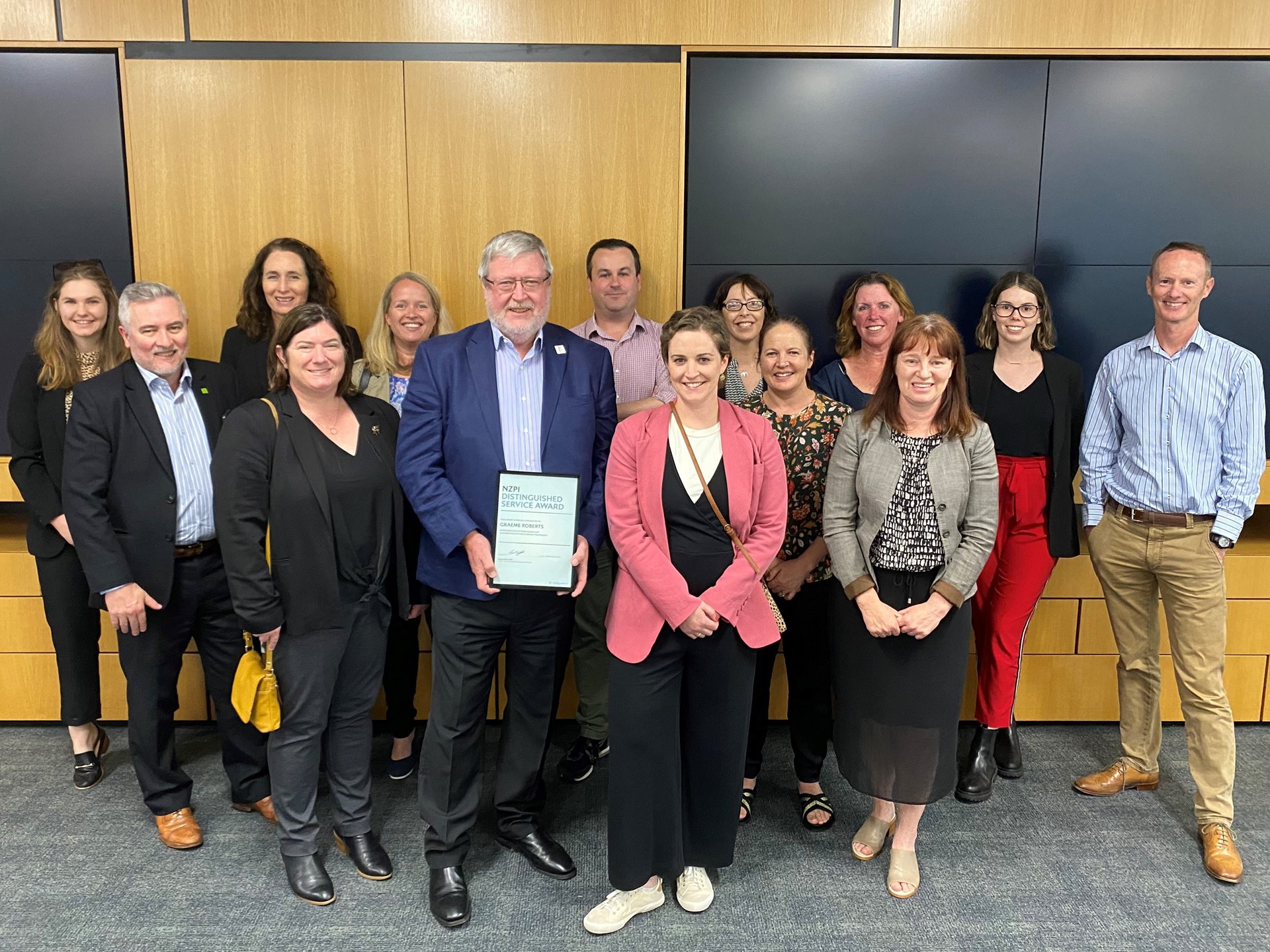 L-R – Ella Klinac, Bryce Julyan, Kathleen Bunting, Ashlie Carlyle, Stefanie Hedgman, Graeme Roberts, Chris Scrafton, Sarah MacCormick, Tracey Grant, Catherine Richards, Jenny Vince, Lesley Hopkins, Kaitlyn Ritchie and Jamie Swan.

Keith Frentz
Keith Frentz, Technical Director - Planning, was acknowledged for his work on community-shaping projects in New Zealand and internationally for over 40 years, and the long-term, positive outcomes achieved.

Keith's experience includes an analysis to help inform Tauranga's future land use planning and support the city's sustainable growth and social infrastructure, development of a District Plan for Motītī Island, and work to improve the safety of Bay of Plenty State Highways.

Keith is sought after for his expertise in statutory, policy and strategic/master planning, environmental and social assessment, his thoughtful and insightful approach, and his experience leading collaborative multi-disciplinary project teams. He has represented organisations at Council hearings and Environment Court on numerous occasions, and is known as a mentor and coach to many planners in the industry.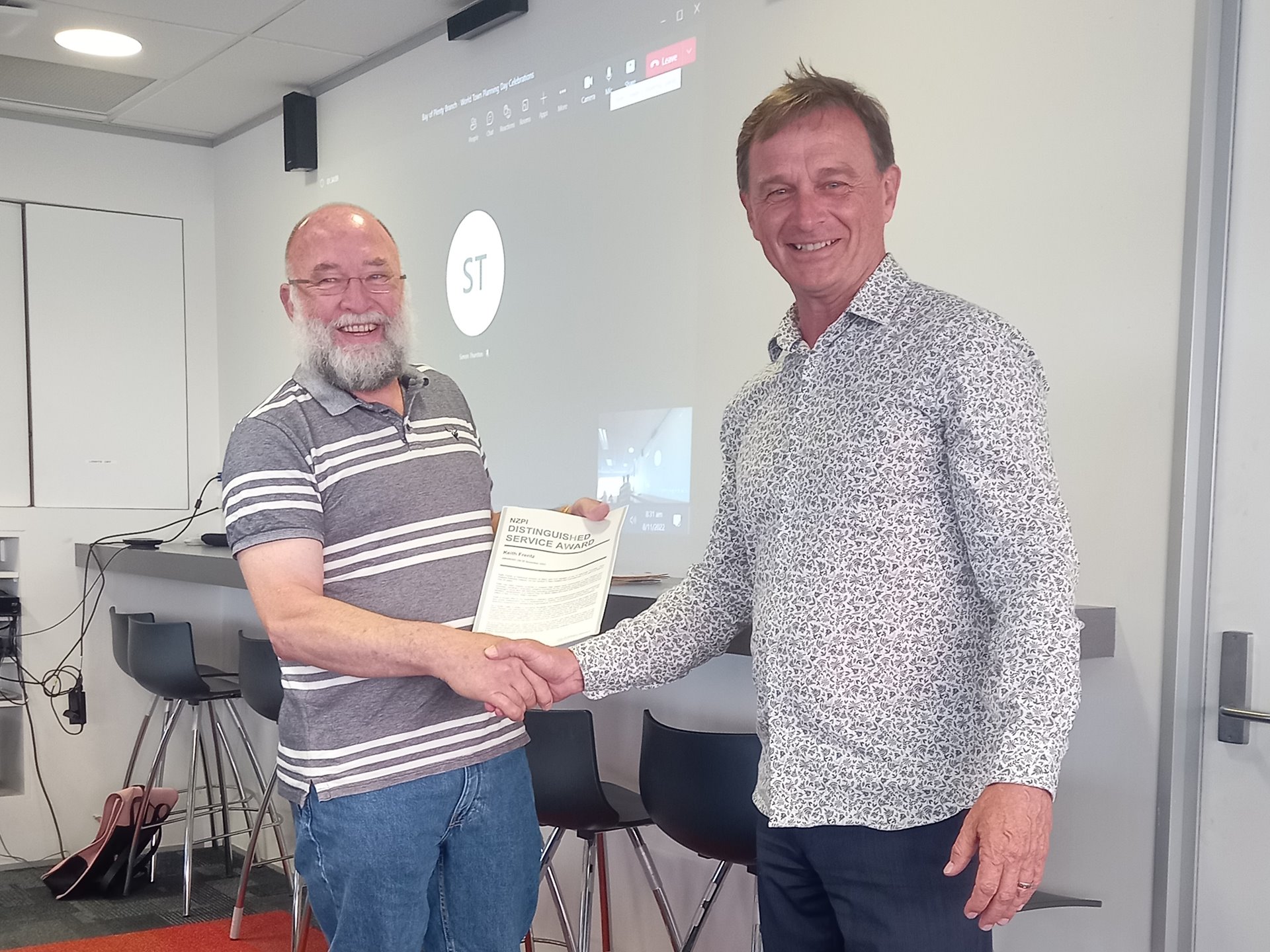 Pictured is Keith Frentz (L) receiving his award in Tauranga from Craig Batchelor (NZPI Board member).

Paul Whyte, Senior Associate - Planner
Paul Whyte, Senior Associate – Planning is recognised as a highly respected resource management planner with over 38 years' experience in plan preparation, designation and resource consent processes. He has worked in both district and regional planning for both local authorities and the private sector. Throughout his career he has appeared as an expert planning witness at Council hearings and before the Environment Court.

At the top of the South Island, the West Coast and across the Canterbury councils, Paul has developed a reputation as a trusted advisor. In doing so he has established strong, longstanding connections and resilient relationships, providing many hundreds of hours of input into district and regional plan development. He has even worked in the Chatham Islands.

Paul has been a very active member in the planning profession, and is known for generously sharing his wealth of knowledge through mentoring of graduate and junior planners.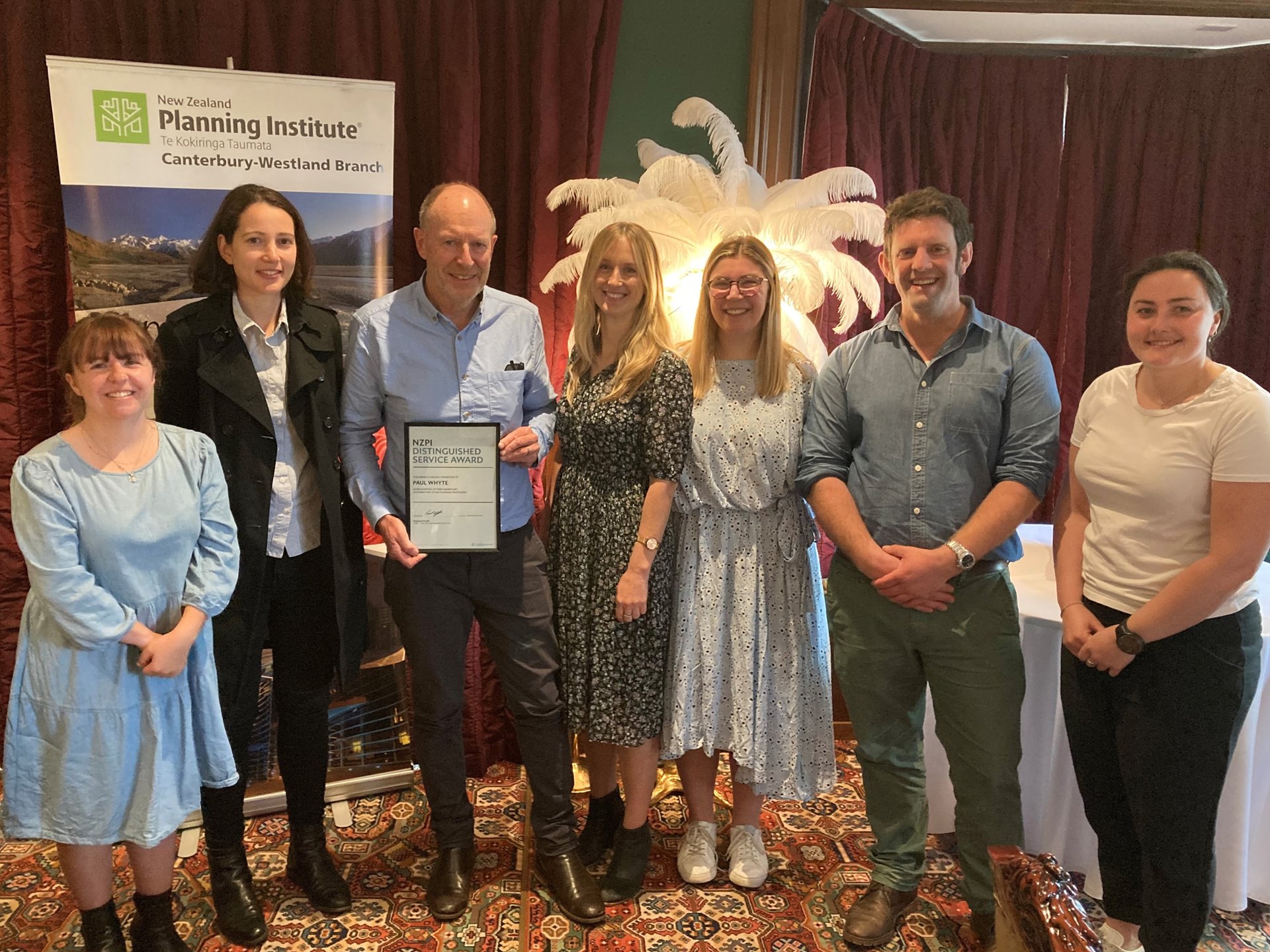 Pictured LtoR: Jessica Mangos, Karin Lepoutre, Paul Whyte, Kristina Mead (Ex Beca employee), Nicolle Vincent (Ex Beca employee), Jeremy Rusbatch and Lydia Shirley, Christchurch.
Congratulations to Graeme, Keith and Paul on their prestigious accolades!