It's been a journey of more than a decade in the making; a story of collaboration and teamwork, 7500 people from across the CityEdge Alliance, 16 bridges, four lanes, and 22km of highway. Just a few of the impressive statistics that culminated in the opening this month of the final section of the Waikato Expressway, following a dawn blessing and project completion ceremony yesterday, 12 July.
The CityEdge Alliance is the consortia that has delivered the design and construction of the Hamilton Section. This is comprised of Beca, Fletcher Construction Company Ltd, Higgins Contractors Ltd, Coffey Engineering Limited, Hick Bros and Waka Kotahi NZ Transport Agency.

For everyone involved in the Hamilton project, it's been great to see all this hard work and commitment realised, following a dawn blessing and project completion ceremony of the final section of the 102km Waikato Expressway this week.

Following this opening, the expressway will be the key strategic transport corridor for the Waikato region, connecting Auckland to the agricultural and business centres of Waikato and Bay of Plenty. The expressway is intended to significantly reduce the number of fatal and serious injury crashes on this stretch of the highway network, remove heavy freight from other parts of the Waikato, reduce travel times between Auckland and Tīrau by 35 minutes, and ease traffic congestion within smaller communities like Huntly, Ngāruawāhia and Cambridge.

The Hamilton stretch of four-lane highway connects the Ngāruawāhia section in the north to Tamahere in the south and is the last piece of the expressway that stretches from Auckland to Cambridge.

"Today marked the completion of a challenging journey for the 207-strong Beca team, many of whom have worked full-time on this project since we began back in 2016. It's an outstanding achievement, and I'm extremely proud of Beca's tenacity over the six years we've been involved," says Project Alliance Board member and Beca Project Director, Brent Meekan.

"Tricky ground and site conditions, difficult weather and a long and complex site made the project especially challenging, and our design engineers did really well in coming up with clever solutions. And let's not forget the Covid-19 pandemic in the middle of all this, which tested our resilience in managing the project remotely."

"Other challenges included dealing with complex drainage due to low-lying ground. We also discovered an area of iron ochre contamination which clogged up the subsoil drainage and required our design engineers to think innovatively."

A multi-discipline Beca team from offices across New Zealand provided civil and structural design, geometric, stormwater, environmental, and landscape design as part of the CityEdge Alliance, who delivered the contract. In collaboration with our Alliance partners, Beca contributed 325,000 of the 4.2 million hours worked on the project.

Waka Kotahi partnered with Waikato-Tainui on developing a plan before the Hamilton project started, strongly focused on environmental and cultural concerns and outcomes.
The Hamilton section was the largest roading project ever undertaken in the Waikato. Projects like these are guaranteed to provide some impressive statistics, and this one was no different!
CityEdge Alliance issued 2,602 drawings for construction

16 bridges – all gifted with names by iwi and with iwi designs on the abutments

5 major intersections

1.3 million tonnes of aggregate

5.5 million cubic metres of earthworks

110,000 tonnes of asphalt, manufactured at a temporary asphalt plant on site

233km road markings

126km of fencing

700 road signs.
And another quick statistic, in amongst the passion, contribution and mahi of so many, is we reckon the Beca team quite possibly consumed 81,000 cups of tea or coffee along the way!

For further information about Beca's involvement in the project, please contact Brent Meekan at brent.meekan@beca.com.

To find out more about the project, visit Waka Kotahi's project site at https://www.nzta.govt.nz/projects/waikato-expressway/, or see this fantastic flyover - Waikato Expressway: Hamilton section flyover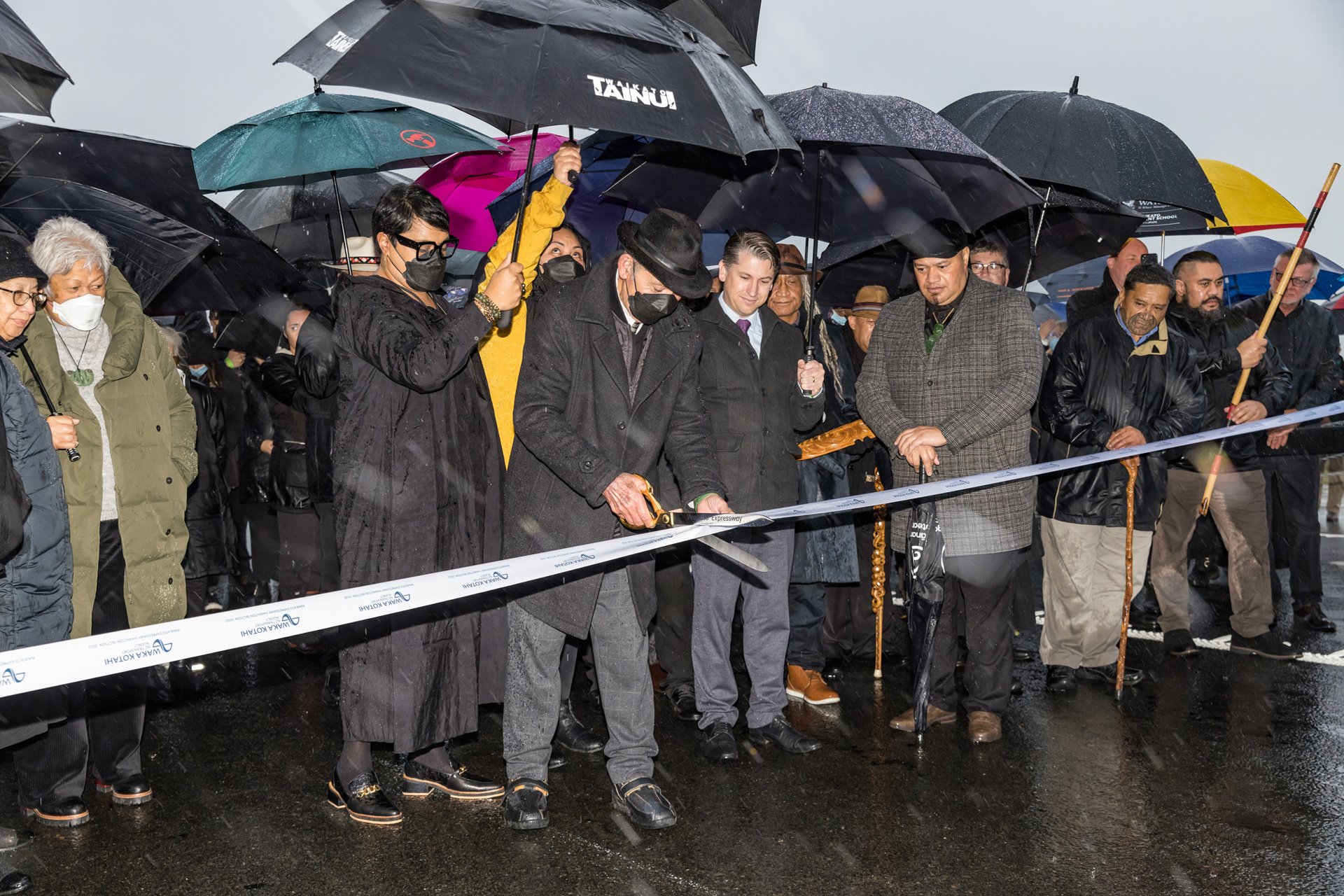 Pictured: King Tuheitia cuts the ribbon alongside Transport Minister Michael Wood at Tuesday's Hamilton section completion event.