Beca and the University of Canterbury awarded five exceptional engineering students with Engineering in Society Scholarships at the scholarship award ceremony, held at Beca's Christchurch office, last night.
The Beca Engineering in Society Scholarships were established 32 years ago to encourage excellence in engineering, in addition to academic achievement, reflecting on broader outcomes, contribution to the community and demonstrated leadership as essential parts of being a successful engineer in today's society.
These scholarships are awarded to inspire and support undergraduate engineering students in their Second and Third Professional Years who demonstrate the potential to become outstanding professional engineers, with three scholarships awarded to five outstanding individuals.
Amongst the winners, three Second Professional Year scholarships worth $3,000 each were awarded to Mechatronics engineering student Rohan Mathias, Civil & Natural Resources engineering student Samuel Paquier, and Forestry engineering student James Power.
The Third Professional Year scholarship worth $3,500 went to Civil and Natural Resources Engineering student Charis Hyde.
The Phil Gillon Memorial Scholarship, named in honour of one of Beca's Principals and foundational leaders of Beca's Southern Region business as well as a University of Canterbury alumni, was awarded to Third Year Mechanical engineering student Jennifer Berry for an amount of $5,000.
Each of the students demonstrated an incredible amount of passion, enthusiasm, experience and insight, along with a desire to develop leadership and learn.
Letitia Drury, Beca Regional Manager – Southern and University of Canterbury graduate, attended the ceremony to celebrate the students' achievements in person and acknowledged what a privilege it was to celebrate the Beca Engineering in Society Scholarships at the event.
Pleased to present the scholarships, she said, "Despite the challenges and uncertainties that Covid has thrown at all of us over the past two and a half years, one thing that has stayed constant is our commitment to keep supporting our future generation of engineering leaders. As always, the calibre of the applicants continues to be nothing short of outstanding."
"Combined with their ambitious visions and goals, they are destined to make a positive impact on the engineering profession as well as the sustainability of the world we live in today. On behalf of Beca, I wish them all the very best for their futures."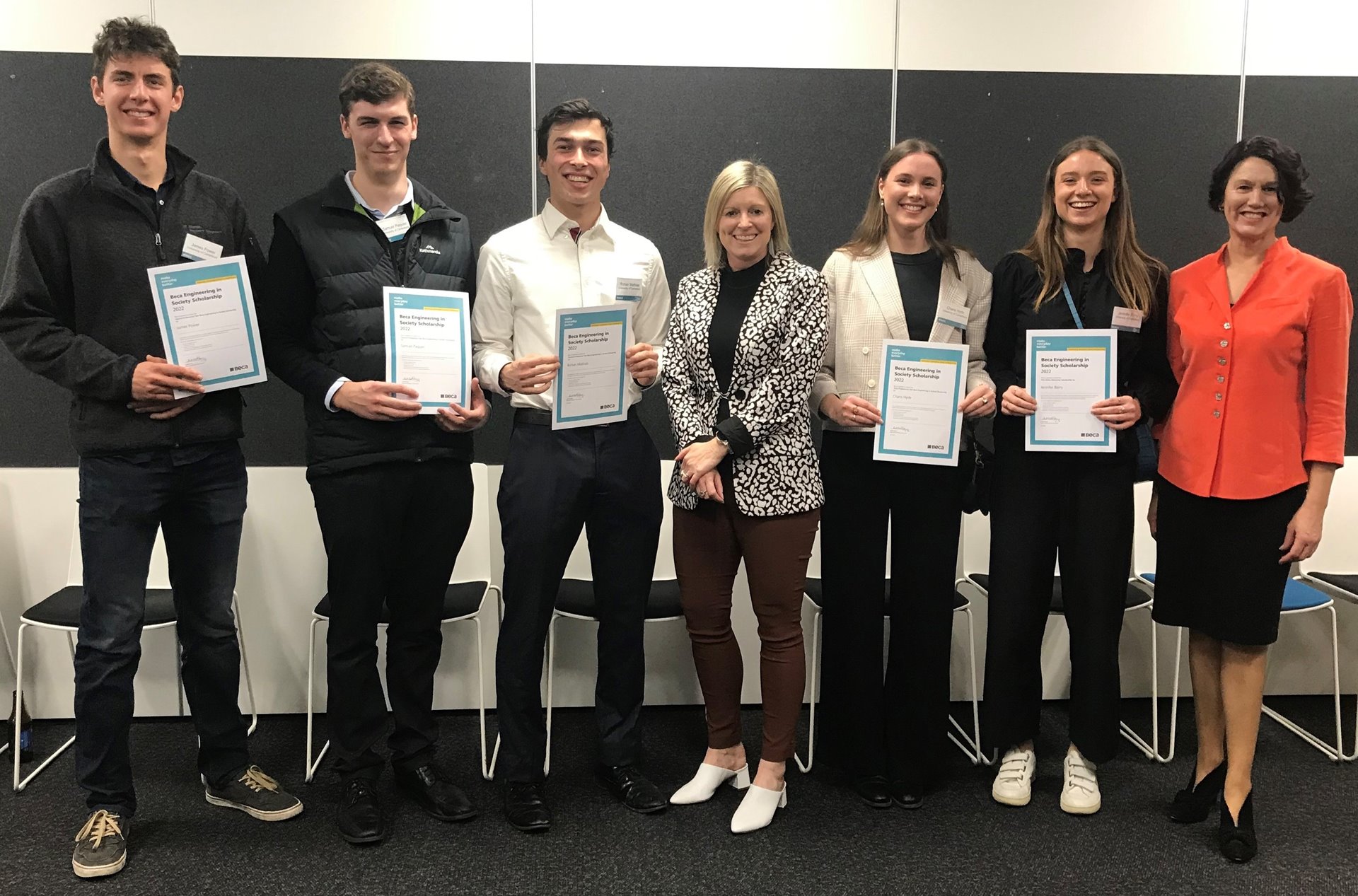 From L to R: James Power, Samuel Paquier, Rohan Mathias, Letitia Drury (Beca), Charis Hyde, Jennifer Berry. Professor Gail Gillon (University of Canterbury).