Sustainability is integral to delivering on our purpose to make everyday better. We are committed to taking care of our environment, our communities, and the legacy we leave for future generations.
About this report
Our latest report shares Beca Group's activities and achievements between 1 April 2021 to 31 March 2022 – detailing our social, environmental and economic performance, and the multiple ways we're making everyday better.
You'll find information on our strategic focus areas, progress made towards key initiatives and how we are positively contributing to the Sustainable Development Goals (SDGs).
It also covers our focus areas we've committed to as part of our sustainability strategy, which are:
upholding technical and professional leadership
fostering a diverse and inclusive business
shaping resilient and adaptive communities
decarbonising our economy
harnessing digital transformation
prioritising health and safety
prioritising wellbeing of our people, and
financial stability.
You'll find information on our strategic focus areas, progress made towards key initiatives and how we are positively contributing to the Sustainable Development Goals (SDGs).
If you have any questions or suggestions for improving this report or Beca's approach to sustainability, please contact sustainability@beca.com.
How do we create value?
Our value chain revolves around our people.


As a professional services firm, the biggest positive material impact on social and environmental outcomes we can have is through the work we do with our clients' and on their projects.


We don't have a typical value chain where raw materials are used to manufacture goods for sale. Our focus on our people who deliver this work is therefore paramount.
FY22 Highlights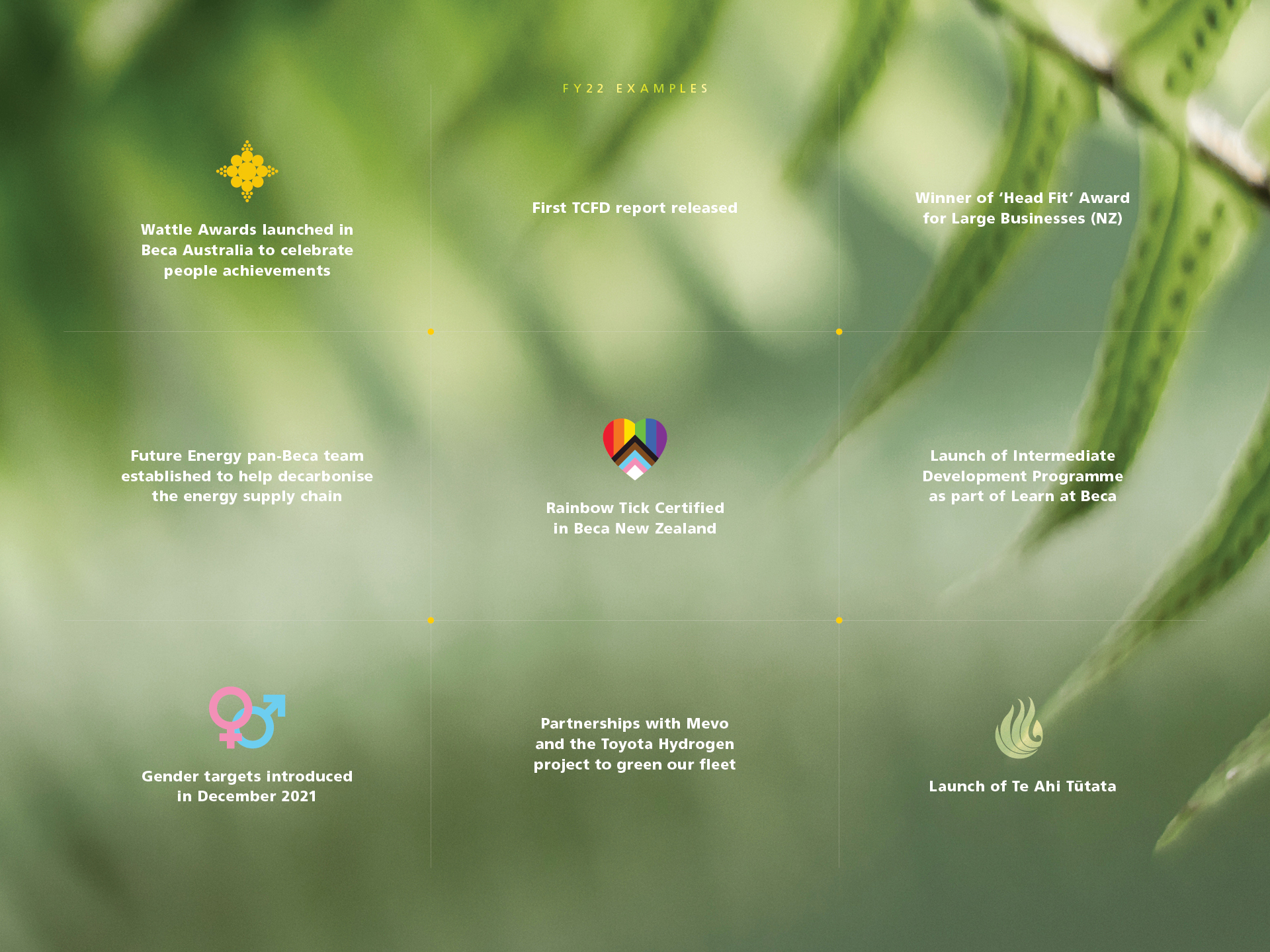 Focusing on what matters
Sustainability within Beca is driven by a clearly defined strategy, and supported by extensive stakeholder engagement, leadership, and governance.
Our purpose to 'Make Everyday Better' continues to be embedded strongly in our business and, together with our Values and Vison, continues to motivate us as individuals and guides us forward as a business.
Our purpose also reflects the substantial contribution we make to our clients' successes and to positive, sustainable outcomes for the communities where we live and work.
This section describes how this integrated approach enables us to achieve our sustainability goals. We use the terms footprint and handprint to help explain the way in which we focus our efforts.
Our footprint represents the impacts of our business operations – we aim to minimise the negative impacts of our footprint (for example the impacts of our supply chain and emissions from travelling) and increase the positive impacts we can have (for example the wellbeing of our people, diversity of our business through recruitment, and social outcomes from supply chain engagement).
Our handprint represents the positive sustainability outcomes we can help to deliver (social, environmental, cultural and economic) through the work we do with our clients and communities. Our focus is to maximise our handprint.
To help us drive and have impact, we have identified key focus areas, including long-standing issues of material importance to Beca as well as issues recognised by our employees and key clients as important in 2017.
Creating value through our focus areas
Upholding technical and professional leadership
To successfully deliver on our second century business goals and support client outcomes, we are leveraging our pool of technical leadership within Beca.
Fostering a diverse and inclusive business
At Beca, we strive for a workplace where our diverse group of people have equal opportunity, feel they belong, are connected, and able to thrive.
Shaping resilient and adaptive communities
Through the work we do with our clients, we have significant opportunity to positively contribute towards building resilient and adaptive communities.
Decarbonising our economy
Across our business, we continue to look for effective ways of reducing our own emissions and continue to support our clients decarbonisation journeys.
Harnessing digital transformation
Our refreshed digital transformation strategy is helping drive the change and ensure we have the right capability, and digital products and services to deliver a better client experience.
Prioritising health and safety
We are committed to the wellbeing of our employees and safer designs for our communities and ensure health and safety is front of mind.
Prioritising wellbeing of our people
Learn more about the many ways we have committed to look after the health and wellbeing of our people and prioritise the wellbeing of our clients and communities.
Financial sustainability
Learn more about our commitment to employee ownership, of building strength and contributing to Beca's future.
More on delivering positive outcomes for people and communities
Our handprint
Our team is on a mission to deliver consistently positive experiences and make everyday better for our clients.
Find out more