When Beca joined with New South Wales-based Hunter H2O in 2022, the goal was to create one of Asia-Pacific's leading water consultancies. Fast forward 12 months and Beca HunterH2O is paving the way – from the coast to the country to the city – in the 'decade of water'.
As the extremes of climate change combine with population growth, economic and supply chain constraints, the water sector must continue innovating to create more resilient and sustainable communities, and in close connection with future energy planners.
Beca HunterH2O is deeply focused on this challenge, strengthening its foothold as water experts, and leveraging decades of experience in regional Australia, New Zealand and developing Pacific nations.
Beca HunterH2O General Manager, Peter Dennis, reflects positively on the team's first 12 months together and is excited about the company's direction.
As I look back on the year as Beca HunterH2O, our success is really attributed to our people and shared values, and the incredible collaboration in action," Peter said.
With continued focus on delivering a sustainable legacy with our clients and partners, and genuine desire to make a positive impact, we are well placed to continue driving the future of water forward and solving these challenges."
Beca HunterH2O's team of 380 water specialists comprises the largest group of process engineers and operational experts across Australia and New Zealand.
Beca Managing Director Australia, Craig Lee, said the company's expanded water offering had built strong momentum with new and existing clients.
Beca HunterH2O is currently appointed to more water provider panels along Australia's east coast than any professional engineering services contractor," Craig said.
We are grateful and excited to be partnering with local governments and water authorities, including all four Melbourne water retailers plus most of regional New South Wales and a growing presence in Queensland.
Our combined capabilities and forward resourcing strategy has provided the opportunity to accelerate and stay at the leading edge of our industry, sharing our experience from coast to country to city," Craig said.
The merger created an exciting canvas to work from and Beca HunterH2O continues to invest in the future.
Peter Dennis said, "We've seen the impacts of drought, floods, and climate extremes. Considerable investment is required to deliver resilient water supply, which is affordable and meets community expectations of more liveable cities and clean water and waterways."

"Our own investment is purposely forward-thinking and designed to anticipate the expertise our clients will need, supporting key aspects like digital transition, the journey to net zero energy targets, and how to make water more affordable for communities," he said.
The launch of Beca HunterH2O was well received by our people, clients, and partners. Our success really comes back to our culture of collaboration and making a positive, lasting impact." - Craig Lee
Big picture, agile thinking
As an employee-owned, international consultancy with 3,800 people across the Asia-Pacific, Beca is making every day better for people in 70 countries.
Previously, Hunter H2O specifically focused its services to the water sector. Joining forces with Beca, the opportunities to collaborate across the company's multidisciplinary teams took shape quickly, including estimators, urban planners, and energy specialists," Peter said.
We are uniquely positioned to deliver sustainable, operationally focused outcomes for clients, leveraging the historical Hunter H2O front-line experience in utility operations as well as capacity building and master planning.
We don't take clients for granted, and we pride ourselves in bringing incredible ideas and diversified thinking to water challenges. We listen and share the problems together – a true partnership, demonstrated by the many long-established client relationships we have.
Some of our clients have over 20-year relationships with our business, and rather than a transactional relationship, we apply a collaborative partnering approach every day to foster this trust."
Beca HunterH2O's strategic, big picture thinking on regional projects has provided important blueprints for urban areas, such as the benefits of agile procurement.
In the small New South Wales town of Walcha, we developed an innovative approach to procurement for Walcha's new off-creek water storage project to secure the town's water supply. This encouraged local, mid-tier contractors to participate in the main component with many projects being awarded to Walcha businesses," Peter said.
We find this is a valuable option for our clients in New Zealand, because water reforms and consolidation mean communities are focused on ensuring the local economic benefits of water infrastructure projects remain or are enhanced."
In the Pacific, Beca HunterH2O is quietly continuing to make an impact.
"It's more than delivering infrastructure, it's about finding a better way and ensuring capacity building for those economies and governments," Peter said.
A recent highlight for our team was the 'Eua Water Quality Improvement Project in Tonga, after natural disasters including a devastating volcano eruption and tsunami in early 2022.
We went from a standing start to a new water treatment plant in just six months, which can typically take three to five years. Our people volunteered their time and made it their mission to help the community and stakeholders.
Now more than 6,000 people have clean drinking water, and this collaborative project has provided valuable learnings for providers, authorities and development banks."
"What excites me is that partnering is more than being the largest provider. You don't have to be the biggest to be the best. You need great teams and thinking to bring great ideas to life and make a difference. We are seeing momentum and seeing so much collaboration already with huge potential for our strategy to come to life." - Peter Dennis
Future-fit strategy
Looking ahead, Beca HunterH2O's strategy is focused on sustainable operational outcomes, building capacity in regional and developing areas, and supporting current and future water industry leaders.
We are excited to continue applying our experience along Australia's east coast, ensuring the right mix of resources and skills to drive opportunities for clients and their assets," Peter said.
Equally, the water challenges facing our friends across the Pacific are deeply aligned to the Beca HunterH2O philosophy to make a difference, and we have a responsibility to continue this commitment."
Leading Young Water Professionals from Beca HunterH2O are showcasing the group's future of water.
Team members like Michael Carter, Principal Engineer, won the 2022 Young Water Professional of the Year at the AWA Awards, and Rebecca Carlier is a Planning Engineer and PhD candidate solving water challenges on the New South Wales Mid Coast.
"I'm super excited to see what shared learnings Beca HunterH2O can seize from the New Zealand reforms. There are so many similarities between the issues and challenges our Australian and New Zealand regional water utilities face." - Michael Carter
"I work as a planning engineer analysing the curlier problems faced by water utilities. I've been working on investigating the development of a framework into reducing the risk of pipe burst failure. I also work on Integrated Water Cycle Management for local water utilities." - Rebecca Carlier
The company is investing further into initiatives like its communities of practice to share knowledge and connect skills, with a focus on specialised skills development.

"The 'talent war' hasn't gone away and we are focused on really backing and empowering our people. To do this we need to ensure staff experience a collaborative and caring culture, exciting projects, and learning opportunities to accelerate their careers with us," Peter said.

As 'the decade of water' takes shape, Beca HunterH2O remains on track to provide industry leadership and a collaborative mindset to solve the problems of tomorrow, and importantly, to create sustainable communities that make every day better, for people everywhere.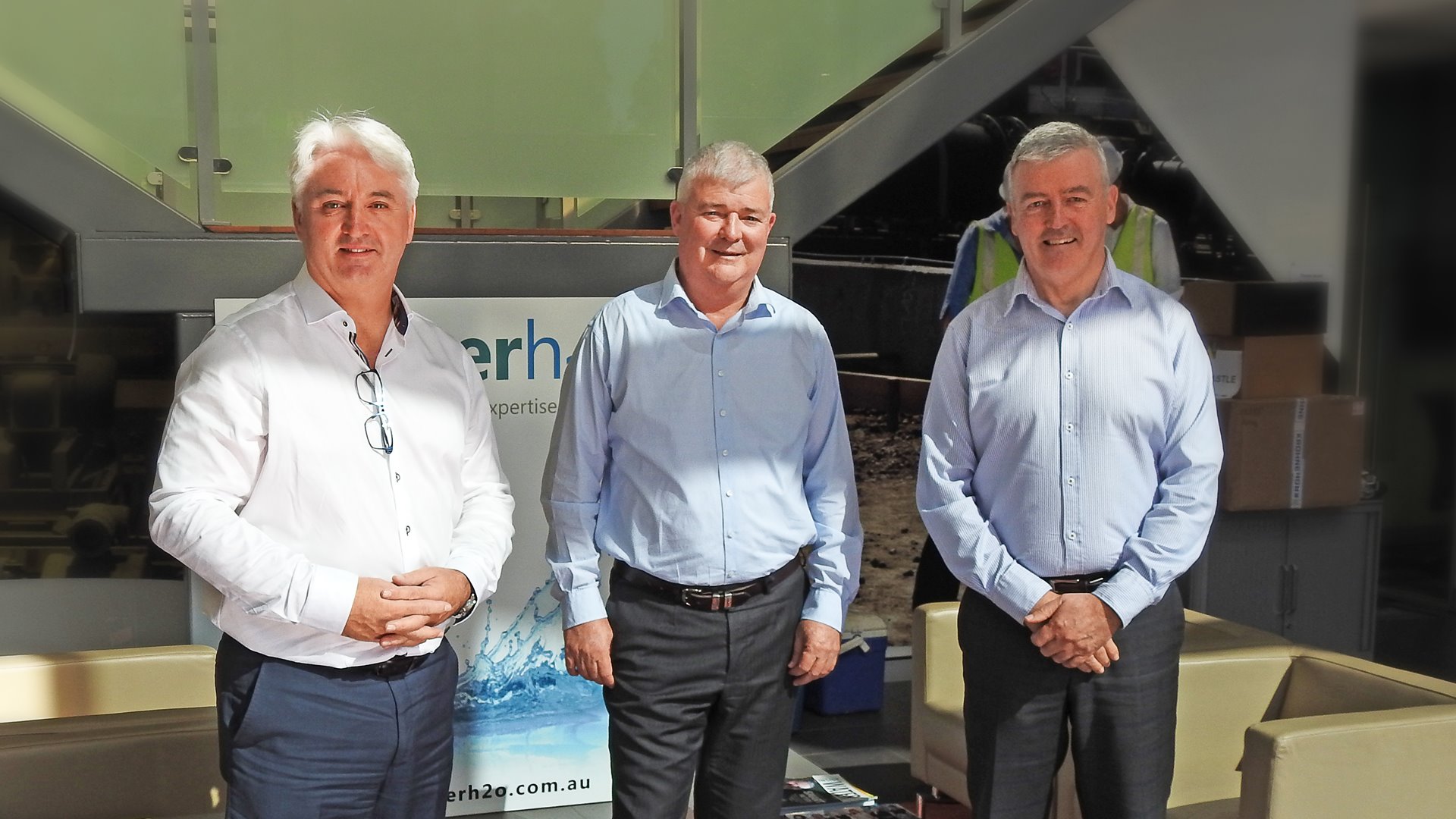 From left to right: Clive Rundle, Peter Dennis and Craig Lee catch-up and reflect on the last 12 months.

Learn more about Beca HunterH2O and how we're shaping the future of water here.