When countries simultaneously locked down during the early days of the Covid-19 pandemic in 2020, the world gave us a brief snapshot of how changing our everyday behaviours could effect a positive change, and remarkably quickly. During that period, the sun shone brighter as skies cleared of pollution, noise levels reduced as people used active modes of transport and wild animals were seen more frequently. Perhaps only then did we have time to stop and contemplate how much our activities contribute to the health of our planet.
Of the eight billion people on the planet today, it's unlikely many would question the necessity to look after the world around us. We only need listen to the news to hear nature's response through flooding in East Asia, to unbearable heatwaves in Europe, rising sea levels in low lying areas, and continuing droughts across the world. Many of us do our bit where we can, but for most of us it can feel daunting, too big a challenge, and we have no idea where to start.

Social licence to change
There is a clear direction set on both a global (UN Sustainable Development Goals, the Paris Climate Agreement) and local scale that will help drive a response to the global challenge and reward us with social licence to operate. This direction gives us a great starting point for our journey over the next few years, to break down the walls of the 'institutional buildings' we are so used to working within.
For the past 200 years our systems, economics, standards and policies have kept us in a mindset of linear thinking – 'take, make, dispose'. We must think and act differently, and our journey must start now, as every day we continue with the same thinking, and doing as we've always done, takes us further from our goal.
Our journey starts with the circular economy
With a growing population, how do we, as a collective, continue to meet the infrastructure demands of the future whilst transitioning beyond net zero carbon to a circular economy?
Across the globe, green principles and sustainable design are already being embedded into project work. Many clients expect it, legislation demands it; yet this is no longer enough. There is no option but to go beyond simply sustaining the planet to another level of maturity, to creating a circular economy where system thinking, restoration and regeneration become the goals.
The circular economy is based on three key principles:
Eliminate waste and pollution
Circulate products and materials (at their highest value)
Regenerate nature.
So how do we change? How might we continue to develop and do so equitably, while also regenerating and reversing the damage we've already created? How might we move from the existing linear economy to a circular one?

With bold steps we could be challenging the status quo of our industries right now - how might we; support our supply chains to innovate and co-create; develop circular marketplaces; co-create new procurement models that remove intellectual property, reduce risk and liability; use technology to be agile and innovative?

In practice, this means things like moving beyond a compliance narrative of waste minimisation to designing out waste from the beginning. It will require a system thinking approach; to think outside the guidelines and current best practice that we used to follow. We will need to take bold steps to disrupt current standards, supply chains and business models to create change in how we design, deliver and use technology.
The Circular Design Framework
Rising to this challenge, Beca has created a Circular Design Framework to respond to these aspirations. The framework provides guidance on how to integrate the three circular economy principles, as well as embed cultural perspectives; create socio-economic benefits; and respond to the need for resilience and adaption to climate change in the delivery of our projects. This approach is helping to provide our people, and our clients, with the tools/structure to shift from a sustainable to regenerative mindset.
The Circular Design Framework comprises six principles as shown below.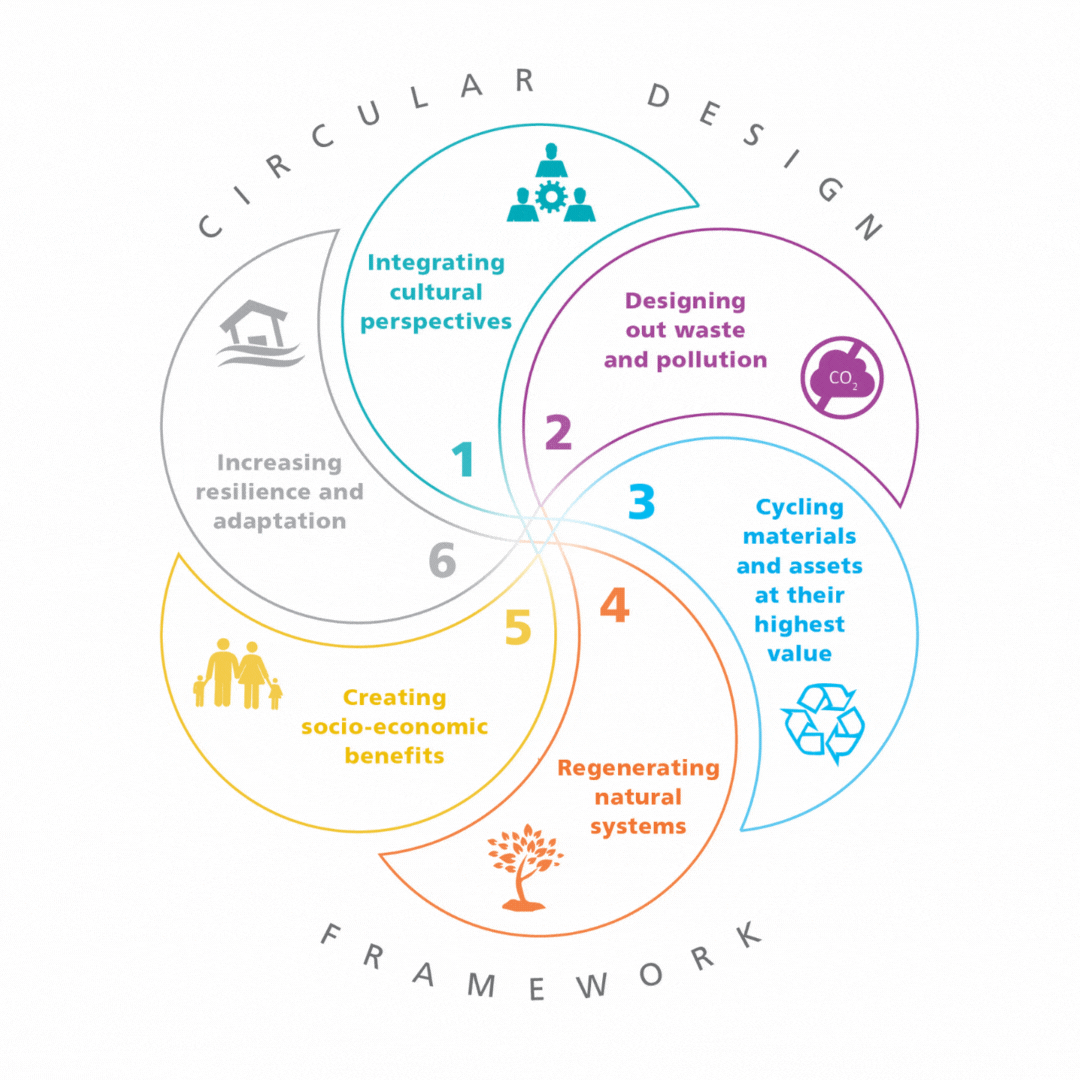 Diagram showing the six principals of Beca's Circular Design Framework: Integrating cultural perspectives, designing out waste and pollution, cycling materials and assets at their highest value, regenerating natural systems, creating socio-economic benefits, and increasing resilience and adaptation.
As designers, engineers, and scientists, we are problem solvers at heart; we just need to be asked different questions, have our thinking challenged, and expand our view on what success looks like – which is what this framework seeks to address. Rather than the incremental linear tweaks we're so used to, the framework looks to focus on the upstream interventions to challenge and create opportunities for long-term value.
For example, it empowers us to ask questions like; how might we influence and create materials on an existing asset so they can be used for the next project? How might we regenerate and repair the natural systems and provide long-term benefits for the environment? How might we incorporate cultural perspectives that reinforce a strong identity within our community?
What does success look like?
We're all on a journey, and we all have a part to play in the race to create a circular economy vision.
The message is clear – we need to be bold, we need to be disruptive, and we need to support each other as we go on this uncomfortable journey. Because there will be difficult questions that we don't know the answers to, and that's okay. This is a huge challenge, but it also provides an opportunity to shape a completely different approach to delivering our future infrastructure.
As we saw during the lockdowns, collective action is key to unlocking real change, and the change needs to be driven by us. We need to lead with intent through supporting innovation, being open to new approaches and ways of thinking, and embracing transparency of our impacts on climate change – to give insight to areas requiring focus and allow all of us to have visibility in this global issue. Through collaboration, co-creation and co-design, we can support each other to tackle and answer the big questions that will help get us to the future we all want, for ourselves and the next generation.