To achieve the reduction in carbon emissions that Aotearoa needs to play our role in limiting global warming to 1.5C, we need to work together to find innovative solutions and new ways of working that will support our collective goals. The Intergovernmental Panel for Climate Change (IPCC) report recently highlighted that changes in our climate are now being observed in every region of the world, and across our entire Earth System. From the end of October, the COP26 summit will bring parties together to accelerate action towards the goals of the Paris Agreement and the UN Framework Convention on Climate Change. The time for collective action is now.
We're excited to launch a new series of webinars for our clients, to share insight and practical advice to help us all move in the right direction. Whether you're just starting out on your decarbonisation and resilience journey, want to understand the legislative landscape or want some practical ideas to support your organisation, we'd like you to join the conversation.
Check out the full webinar series programme details below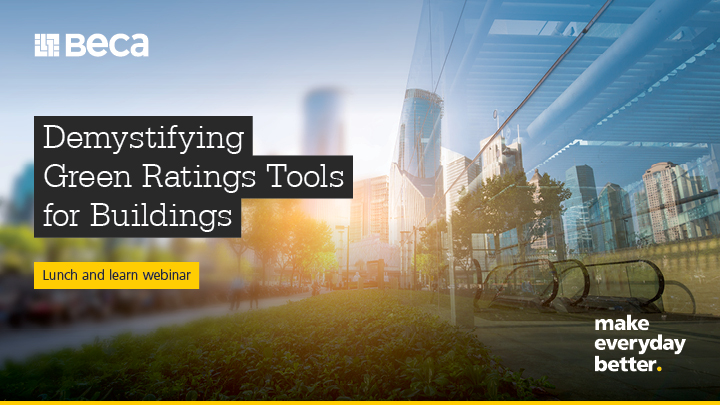 Thursday, 4 November
12:00 – 12:30
Demystifying green ratings tools for buildings
Hear from Beca's Scott Smith and Ethan Duff who will help you understand how your organisation's strategic sustainability goals can be used to guide the development of buildings projects.
Scott and Ethan will look at the range of green rating tools for buildings (e.g. Green Star, NABERSNZ, Living Building Challenge) and discuss how these have steered some of New Zealand's leading projects, including University of Auckland's B201 building – currently the highest rated Green Star building in the country. They will also discuss how rating tools can help keep the design team on track, quantify green design features, allow your assets to deliver lower carbon and environmentally friendly outcomes, and convey meaningful value to your organisation and stakeholders.
The webinar will cover benefits of the wide range of options available in the market and give a better idea of balance of spend on 'sustainability' – with plenty of time available for questions after the presentation.
Host: Matthew Plummer, Associate – Buildings
Speakers: Ethan Duff, Building Scientist; Scott Smith, Senior Associate – Building Services
View our recent webinar recording here
Climate adaptation and strategic planning: the opportunities created by resource management reform
The latest IPCC report, released on the 9 August this year, has revealed that all emissions scenarios now show 1.5°C of warming by or before 2040, growth in unparalleled extreme weather events, and a practically ice-free Arctic at least once before 2050. The message is clear, transformational change is needed now. However, the incremental nature of climate change can make it difficult to articulate to our communities what the benefits of transformational (and often costly) change are. Spatial plans have the ability to address climate change, including both adaptation and mitigation measures, by setting long-term direction that incorporates a suitable evidence base for climate change.
Hear from Cushla Loomb on the opportunities that are presented by new legislation that will replace the Resource Management Act; including the Natural and Built Environments Act, the Spatial Planning Act and the Climate Change Adaptation Act and how we can bring our communities on the adaptation journey.
Host: Connon Andrews, Market Director, Climate Resilience & Adaptation
Speaker: Cushla Loomb, Environments Delivery Lead
Decarbonising your organisation: the challenges and opportunities
Hear from Eleanor Grant and Sarah Bacon as they discuss the importance of measuring and understanding your organisational carbon footprint. They will share a practical approach to creating a decarbonisation pathway that will help you reduce carbon across your organisation and supply chain and the importance of integrating this into your capital plan.
Host: Kate Meyer, Business Director - Sustainability
Speakers: Eleanor Grant, Principal – Industrial Sustainability; Sarah Bacon, Associate – Industrial Sustainability Consultant
Climate change policy: the near-term risks and opportunities for your organisation
Over the next 2-3 years, the Government will implement a series of major policy decisions on climate change. The near-term risks and opportunities of these changes will have a broad impact – even for organisations not directly affected by the new requirements.
Hear from Beca's Matt Raeburn, who will help you to understand what these policies could mean for your organisation. Sharing an approach that supports strategic decision-making, Matt will use climate scenarios to illustrate how these risks will manifest quickly and change over time.
Host: Genevieve Smith, Principal – Sustainability Advisory
Speaker: Matt Raeburn, Lead – Climate Related Disclosures
Training event for Public sector representatives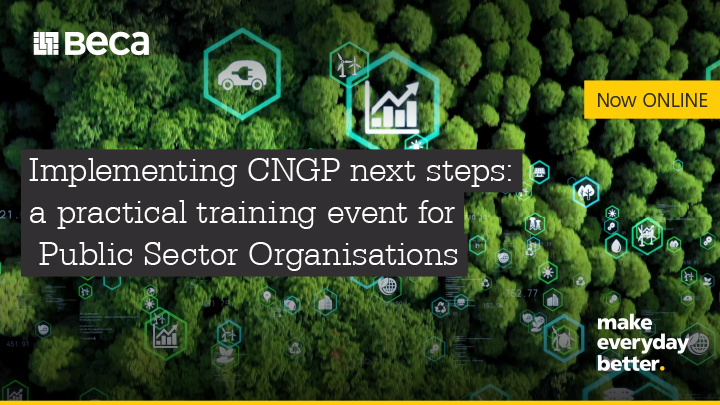 We are holding a free training event to bring together public sector, sustainability and climate change representatives, offering practical insights into addressing climate change in your agency.
When: Monday, 18 October 2021
Where: Online, register here
Time: 9:00 AM - 12:30 PM