The Government has released its long-awaited decision on the future of Auckland Light Rail – with light rail to run along a tunnelled route from Wynyard Quarter and past the University of Auckland to Mt Roskill, before surfacing and running at street level to Onehunga, Māngere town centre and the airport.

The new 24km line, known as City Centre to Māngere (CC2M), will have up to 18 stations, with services running every five minutes – enabling up to 15,000 passengers per hour to 'turn up and go'.

The lead up to the light rail decision has created considerable excitement in relation to the project's benefits – as well as much expected trepidation by those concerned about the project's significant costs and potential effects.

Continuing our Auckland Light Rail-themed thought leadership series, one of those in the 'excited' camp, Kathleen Bunting - Technical Director of Planning, discusses the many 'city shaping' benefits CC2M will bring for Tāmaki Makaurau, and how these can be maximised.

How is CC2M 'city shaping'?
CC2M is quite rightly described, by Minister Robertson, Minister Wood, Mayor Goff and the Indicative Business Case (IBC) summary report, as a 'city-shaping' project - but what does that really mean?

We can get an idea by looking at examples overseas, especially our nearest neighbours in Australia where light rail projects have recently been retrofitted into existing urban areas to revitalise and transform them (e.g. Sydney CBD, Parramatta and Newcastle). However, some of the city-shaping changes for Auckland will also be quite specific to our unique context, such as our particularly narrow urban isthmus, the cultural significance of both the land and waterbodies to Mana Whenua, and the differing social demographics along the proposed CC2M corridor.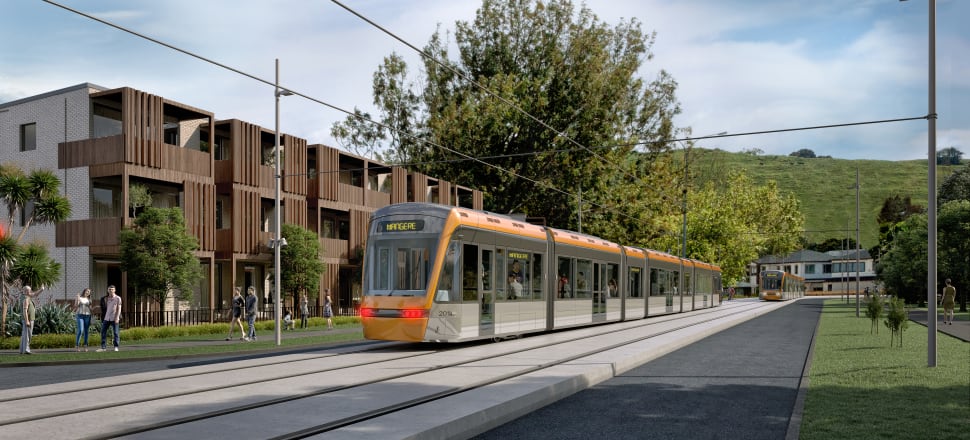 SOURCE: Auckland Light Rail
A step change in access to places people live, work, learn and play
I hope it's becoming clear to the Auckland public that transporting tourists or businesspeople to and from the airport is not the primary purpose of CC2M. The project is about supporting sustainable growth in our city, by improving accessibility of people to the places they live, work, learn and play.

It's also about equity of access i.e. supporting people from all different mobilities, socio-economic circumstances, age groups, family circumstances and reasons for travelling. Light rail caters for everyone, including the mobility impaired (disabled, parents with prams, elderly), those that don't have access to a car, and those that want a more sustainable transport choice.

The selected route will enable people living in areas like Māngere and Mount Roskill, who have been historically under-served by public transport, to travel more easily to work and education. The CBD, Onehunga and the airport precinct are key employment nodes and much of the Onehunga and airport workforces live in south-west Auckland, close to the recommended CC2M route. In fact, workers commuting to and from the airport precinct are expected to use the service more than travellers passing through the airport.

There are also many schools along the corridor, and the central city segment will significantly improve public transport access to the city's university precinct. It will also enhance connectivity to social services and facilities, cultural, sport and recreation facilities like the waterfront, restaurants and shopping, festivals and events in the CBD, Eden Park, maunga, and the Onehunga and Māngere Bridge foreshores.

A high-quality light rail system will relieve pressure on land demand for cars and parking, and will have the capacity to carry significantly more people per square metre than our current bus and car-based system. In this way, it will improve both the physical capacity for density in our city, and the functioning of higher density development. CC2M will support development of denser and wider housing close to rapid transit, and encourage more people out of their cars and onto public transport. This shift onto public transport is critical to support Auckland's sustainable growth, to mitigate traffic and bus congestion in the CBD and on key corridors (like Dominion Road, SH20 and Symonds Street), and to meet New Zealand's net zero carbon target by 2050.

A key way to maximise these transport and density benefits will be seamless integration of CC2M with the broader public transport and active mode network, as well as expansion of the rapid transit network to the north and north-west. This is why it's essential the project is futureproofed for, and integrated seamlessly with these future connections, the planned Additional Waitematā Harbour Connection, and the wider Auckland bus, heavy rail and active mode networks.
Unlocking housing and urban development opportunities along the corridor
In their December 2021 article '
Shaping Auckland's future with Light Rail
', Matt Lindenberg and Bryce Julyan talked about how the project will enable urban regeneration and housing intensification along the corridor, especially in walkable catchments from stations. The National Policy Statement on Urban Development now directs Auckland Council to enable high density (minimum six-storey) development around rapid transit stops. This means very careful consideration will need to be given to stop locations, and good masterplanning and planning interventions like plan changes will be needed within those precincts to maximise the benefits.
The IBC Summary Report predicts that CC2M integrated with planning interventions (e.g. policies and provisions that enable well-designed, medium to high density housing) will enable a doubling of quality development along the corridor with up to 66,000 new homes
1
. That would be a step change in addressing Auckland's housing supply issues – and critically, will enable housing and other mixed uses
next
to high quality, frequent and reliable public transport. The recommended CC2M route also connects to two major areas of social housing redevelopment, proposed by Kāinga Ora, at Mount Roskill and Māngere, as well as other key urban redevelopment opportunities at Wynyard, Dominion and New North Road junction, and around the Onehunga and Māngere town centres.
CC2M will undoubtedly attract significant investment in high density housing and commercial developments close to light rail stops, and the value of this land will likely increase. Land value increase around rapid transit stops (especially within 400-500m) has been the experience elsewhere, including Sydney
2
, and was predicted by the Chief Economist Unit at Auckland Council in 2018
3
. This is a key reason why private entities are interested in investing in rapid transit around the world (It generally isn't to make money off the actual services.)
Although land value increases are a genuine concern in relation to housing and rent affordability, there is also a real opportunity to use this value increase to help fund major projects like this one, and/or to capture this value for public benefit like social housing. This is a concept known as 'value capture' (see figure to right, sourced from Auckland Light Rail), and is one way to minimise public costs and maximise benefits of the project overall.
More space for better uses in the CBD, and Dominion Road/Sandringham Road corridors
CC2M will enable Auckland Transport to remove a substantial number of buses from key routes in the city. This applies mainly to those buses operating along the CBD-Dominion Road corridor, but also the Sandringham Road and Mount Eden Road corridors. The actual benefit in relation to buses is that the current CBD-Dominion Road corridor is at or nearing capacity – effectively constrained by the numbers of buses that can enter the CBD, particularly through the Symonds Street choke point. This means another solution is required – preferably one that does not utilise existing corridor space, like the preferred tunnelled light rail solution.
A key benefit of an underground route through the city as far as Mount Roskill is the additional space and flexibility this will bring at the surface to congested road corridors like Queen Street and Dominion Road. It will mean more room for walking, cycling and scootering, high-quality public spaces, festivals and events, active street frontages and maybe even outdoor dining on Queen Street! This is already envisaged as part of the City Centre Masterplan 2020, which seeks to pedestrianise much of Queen Street and assumed light rail at surface along Queen Street, but would also work well with tunnelled light rail. In fact, light rail underground will make even more room for these active and lively uses of space and place.
The project should also mean less noise and cleaner air in the CBD catchment and other road corridors (relative to doing nothing). All of this will make these corridors much more pleasant, safer spaces to be and will change the way we use and enjoy them.
Helping to meet our greenhouse gas reduction targets
The IBC Summary report notes that New Zealand's net zero carbon target by 2050 is based on a tripling of public transport trips within Auckland. This tripling simply won't be possible without a high-quality public transport network, including new rapid or mass transit corridors like CC2M. CC2M will contribute to this target by shifting more journeys onto public transport and enabling more intense development of housing and mixed uses close to rapid transit stops.
Maximising the benefits of CC2M
In summary, CC2M is a significant opportunity for Tāmaki Makaurau to provide a step change in access, connectivity, travel choice, housing and urban development. It is also expected to contribute to placemaking along the corridor, help to meet our greenhouse gas reduction targets, and have various other cultural, environmental, social and economic wellbeing benefits.
The IBC Summary report talks in some detail about ways to maximise these benefits – and particularly the importance of integrated urban interventions in tandem with CC2M. The table below is my summary of those interventions and other ways to maximise the project's benefits.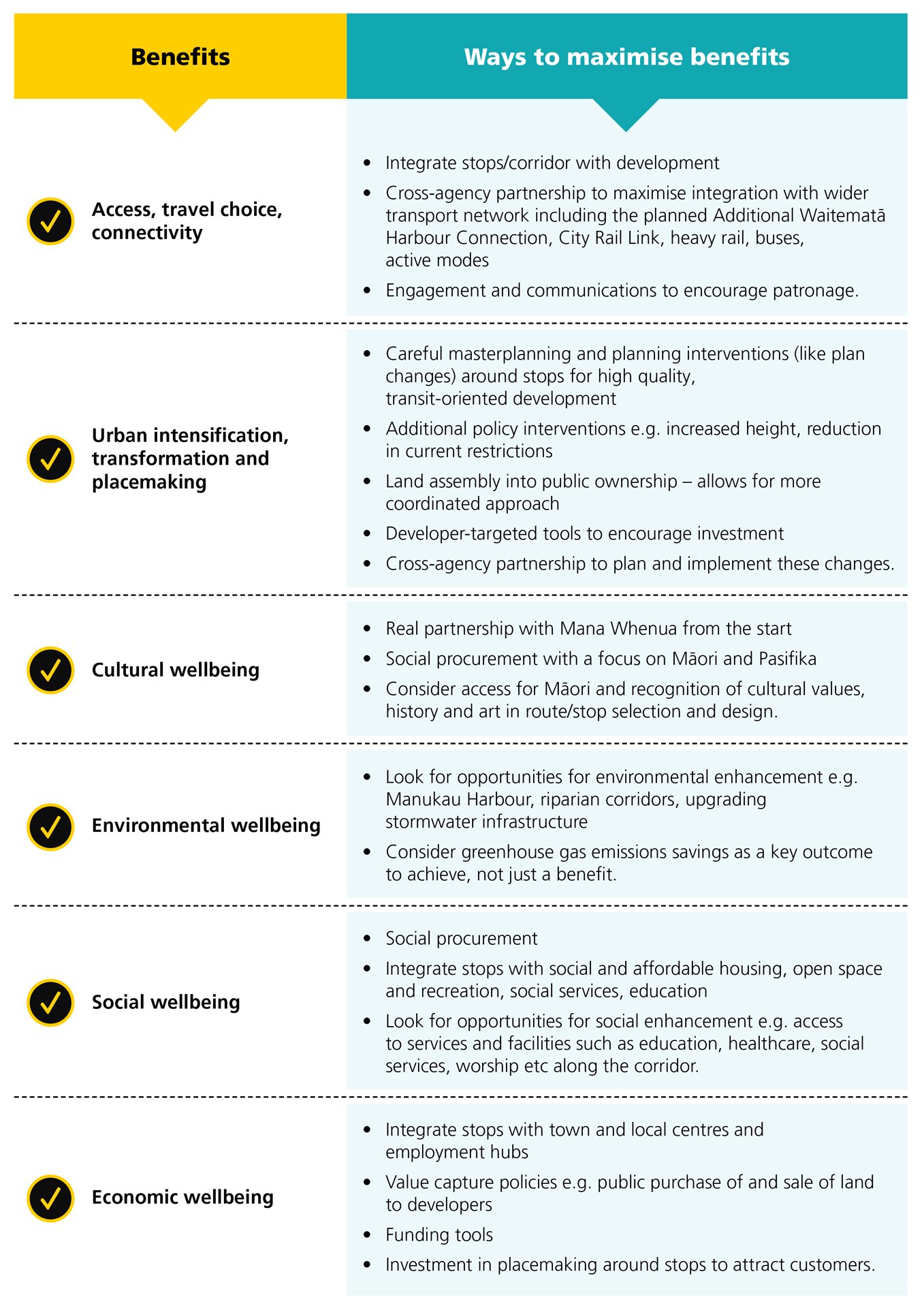 But what are the trade-offs for all these benefits?
Clearly one of the key trade-offs of CC2M is monetary. Ways to balance the financial costs with the project's benefits will be a key focus of the next Detailed Business Case phase.

Another trade-off will be the adverse effects of the project's construction and operation, such as business and community disruption. In the world of major infrastructure, disruption/effects are an unfortunate reality and cannot be avoided entirely. This is particularly true in an already urbanised, narrow isthmus with significant cultural, environmental and social values like Tāmaki Makaurau.

Coming up next in our Auckland Light Rail series, sustainable infrastructure specialists Sam Turner and Ellie Callard, will consider CC2M from the lens of sustainability, and the carbon reduction opportunities it can bring.
__________________
1
Auckland Light Rail
2
Does residential property price benefit from light rail in Sydney? - Mulley et al. 2018
3
How rapid transit access adds to property values - Auckland Council 2018